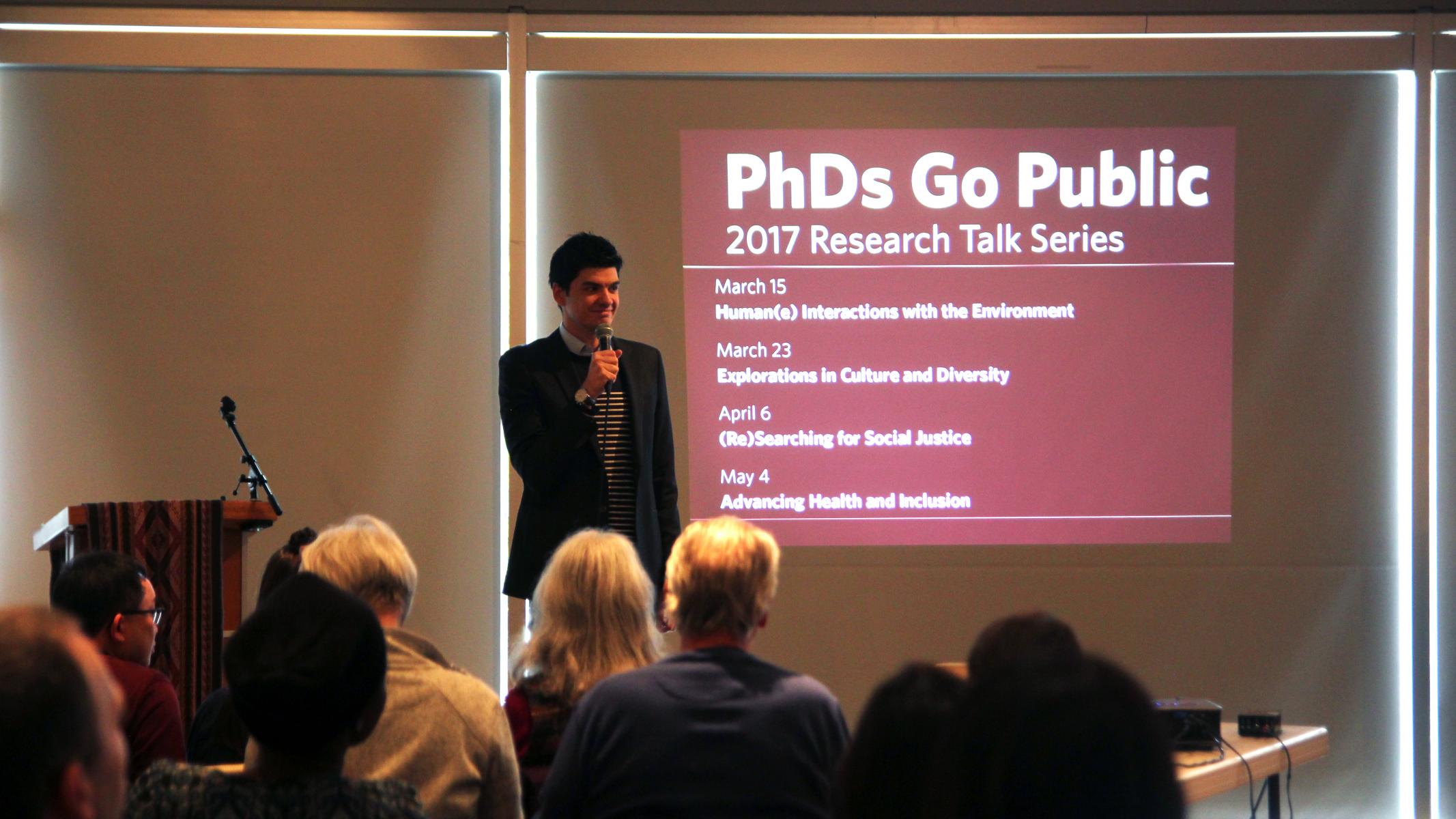 The PhDs Go Public Research Talk Series returns in 2018 with six dynamic events, where doctoral students tell their community-engaged research stories in just under seven minutes.
First initiated by the Graduate & Postdoctoral Studies in the 2015-6 academic year, the PhDs Go Public events spotlight PhD students from UBC's Public Scholars Initiative, who use the Pecha Kucha format to present on how their research is contributing to the public good, and making a change in the world. This year's themes include education, environment, culture, social justice, and health. Mark your calendars, and stay tuned for updates!
FEBRUARY 1, 2018: Bridging the Gaps in Healthcare Practice and Policy
5:30-7:00pm, Paetzold Auditorium, Vancouver General Hospital, 899 W. 12th Avenue
Speakers: Kaitlyn Jaffe (Sociology), Heather Palis (School of Population and Public Health), Zarina Giannone (Counseling Psychology), Andrea Johnson (School of Social Work), Jens Vent-Schmidt (Experimental Medicine)
RVSP here.
FEBRUARY 22, 2018: Environmental Health for Human Health
5:30-7:00pm, Floral Hall – Van Dusen Botanical Gardens, 5251 Oak Street
Speakers: Sophie Lewis (Forestry), Emily Acheson (Geography), Tonya Smith (Forestry), Kelsey Copes-Gerbitz (Forestry), Helina Jolly (Resources, Environment, and Sustainability), Saori Ogura (Forestry), Vincent Ricciardi (Resources, Environment, and Sustainability)
RSVP here. 
MARCH 16, 2018: Politics, Power, and Positionality 
6:00-7:30pm, UBC Robson Square, 800 Robson Street, Room C400
Speakers: Nina Ebner (Geography), Bronwyn Bragg (Geography), Ketty Anyeko (Interdisciplinary Studies), Barnini Bhattacharyya (Commerce), Alexander Held (Political Science), Jose Arias-Bustamante (Forestry), Lindsay Cole (Interdisciplinary Studies)
RSVP here. 
APRIL 9, 2018: Art and Resistance: Multi-Disciplinary Research Perspectives
5:30-7:00pm, Queen Elizabeth Theatre, Salon A, 630 Hamilton Street 
Katrina Dunn (Theatre and Film), Sonia Medel (Educational Studies), Colleen Lanki (Theatre and Film), Sarah Shamash (Interdisciplinary Studies)
RSVP here. 
DATE TBD: Education for Change
5:30-7:00pm, Vancouver Public Library, Georgia Branch, 350 W. Georgia Street
Harini Rajagopal (Language and Literacy Education), Natalia Balyasnikova (Language and Literacy Education), Claudia Diaz Diaz (Educational Studies), Simangele Mabena (Language and Literacy Education), Assadullah Sadiq (Language and Literacy Education), Analise Hofmann (Genome Science and Technology), Neila Miled (Educational Studies)
DATE TBD: Health and People
5:30-7:00pm, BC Children's Hospital Research Institute, 950 W 28th Avenue
Katherine McLeod (School of Population and Public Health), Kelsey Johnson (Geography), Sina Fazelpour (Philosophy), Tebogo Thandie Leepile (Land and Food Systems), Sharon Provost (Interdisciplinary Studies), Bushra Mahmood (Experimental Medicine)