Whether you're an international student looking for housing, or a Vancouver local wanting to find new accommodation, we have some tips for you covering on-campus (Student Residences, Residential Graduate Colleges, market rentals) and off-campus options.
housing Options:
Neighborhoods and Residences/Colleges on campus
This map shows on-campus student residences and residential colleges operated by UBC. In addition to these dedicated student residences, there are also on-campus housing opportunities on the rental market in one of the university neighborhoods. You may find such opportunities in various websites listing housing vacancies.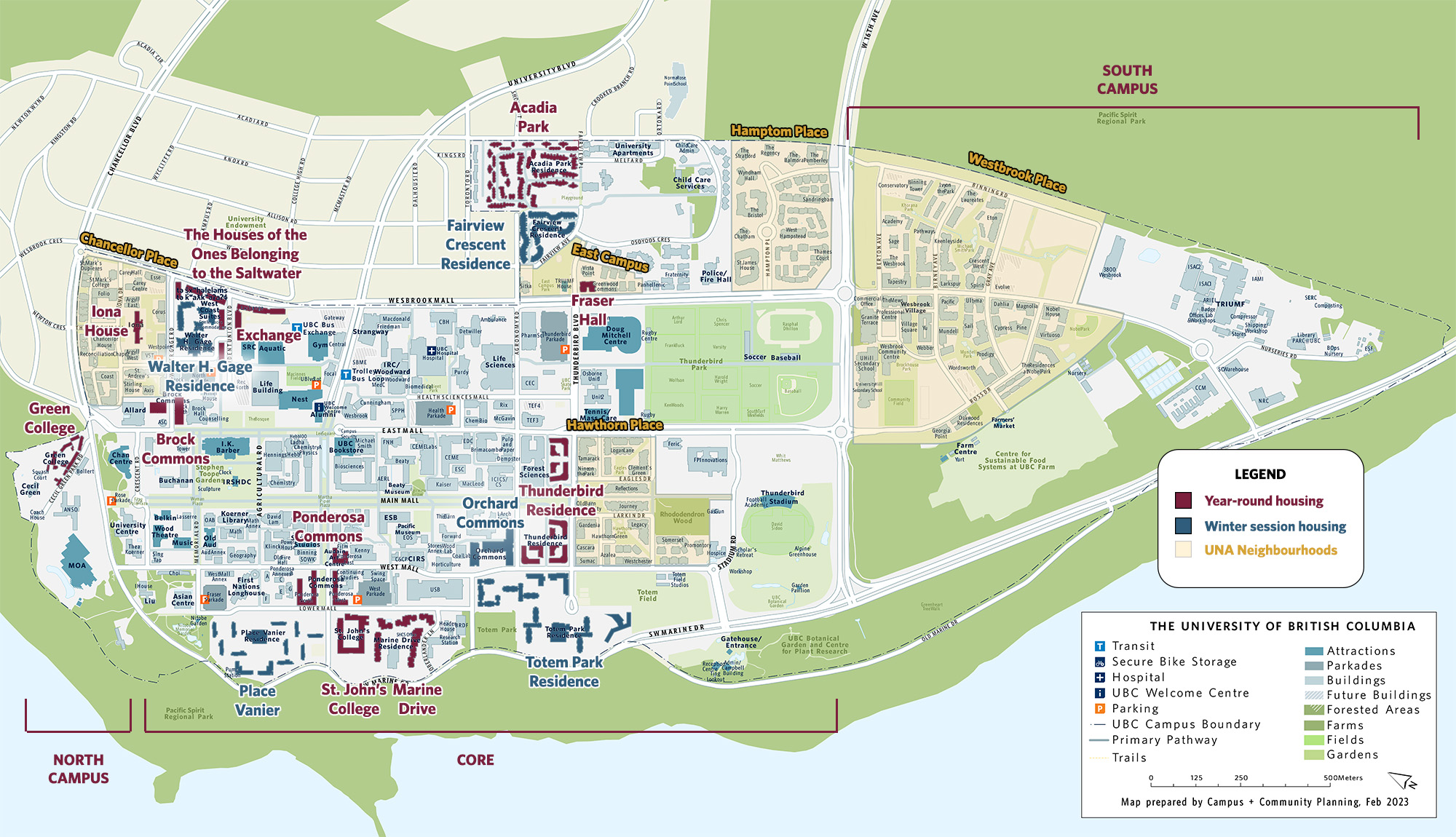 HOUSING CONSIDERATIONS
Your personal situation (e.g. family, pets, costs) and your preferences (e.g. commute) will impact your housing choices. Below are some general considerations to keep in mind when house hunting in Vancouver.
Families
If you are coming to Vancouver with a family, you have options available to you on and off-campus.
Acadia Park is UBC's on-campus residence for families with children which is in immediate vicinity to day cares and a school. However, family housing is in highest demand and requires very early applications to have a chance to receive an offer at program start. Please note that it is possible to apply for UBC housing prior to having applied to a program and for family housing it is strongly advised to apply as early as possible.
Pets and pet-friendly accommodation
If you will be moving with a pet, your options may become more limited. There are no on-campus student residences that accept pets (except service animals), however, off-campus housing and on-campus non-student residences may have provide opportunities. Please check with the landlord or developer prior to moving in as having a pet usually requires approval and a pet deposit.
Utilities
An additional cost you should consider when choosing a place to live is which utilities are included in your rent. 
On-campus student residences include internet, hot water and electricity.
Off-campus/non-student residences will vary by each place. Consider electricity, water, TV, phone line, heat, internet, fees for amenities etc. Ensure you ask your landlord about which utilities are included.
Location and cost of living
The amount of money you spend to live in Vancouver on food, activities, etc. will vary from person-to-person based on lifestyle, neighborhood and circumstances. Try out our cost of living calculator to get an overarching estimate of how much you should expect to budget for as a minimum. Note as well that rents vary significantly by neighborhood and proximity to UBC campus. The Canada Mortgage and Housing Corporation provides housing market information, including average rents per area and type that you can consult for more specific details.
Ensure that you know where your program will be delivered. For research-based programs some students in certain fields like Medicine will be spending most of their time in affiliated research facilities such as hospitals and may thus not travel much between the Point Grey campus and their home, but predominantly to that facility. Housing choices would best be planned accordingly.
Commuting
The further east (away from UBC) you go, the more affordable the housing tends to be. However, this also comes at the cost of commute times. It is easy to figure out transit and bike routes to UBC from Translink which gives you all the information and time estimates. The province and City of Vancouver are investing into transit upgrades and in the future UBC students may benefit from a Skytrain connection to UBC to replace the 99 Express bus line.
Major express bus routes connecting to the UBC campus are line 99 along Broadway and R4 along 41st Avenue, lines 44 and 84 along 4th Avenue. Lines 25 and 33 are regular buses along the 16th Avenue corridor.
Specialized housing options
If you require or are interested in specialized housing options to make sure you find a space that suits your needs and comfort, see some resources below.
Co-op housing: check the Co-operative Housing Federation of BC (CHF BC)
LGBTQ friendly house searches: check groups/sites such as Homes for Queers Vancouver or Queer Exchange
Students with disabilities who need priority access to on-campus housing. St. John's College has a limited number of wheelchair accessible rooms available. Green College is not suitable for students with mobility disabilities. UBC Housing has several residences (e.g. Gage Apartments, Fairview Crescent, Thunderbird, and Marine Drive Residences) that are suitable for students with mobility disabilities. Priority for assignment is given to students with substantiated disabilities that might prevent them from commuting to UBC from an off-campus residence. Please contact UBC Student Housing and Hospitality Services directly to get all details regarding availability and eligibility.