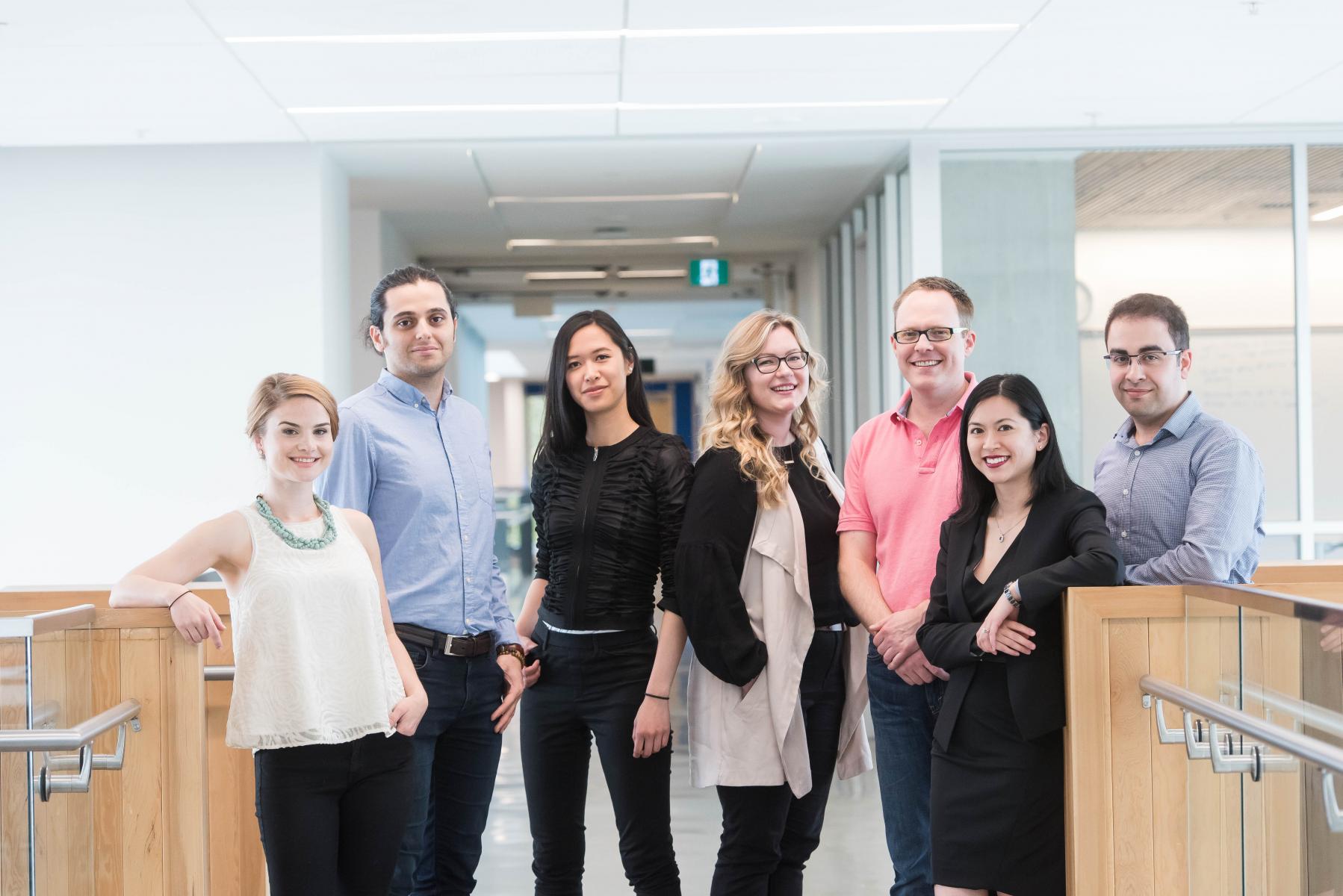 (Not pictured: Raquel Baldwinson and Ashleigh Rich)
Nine graduate students doing research in the field of health have received this year's Friedman Award for Scholars in Health. Winners range from a variety of programs, including English, Biomedical Engineering, Psychiatry and Public Health.
The Friedman Award for Scholars in Health supports learning and research opportunities for graduate students or medical residents working in the broad area of health, to bring new perspectives to their education and further their career.
The award is named after two of the earliest faculty members in the UBC Faculty of Medicine. Dr. Sydney Friedman and his wife Dr. Constance Livingstone-Friedman believed that well-rounded and transformative education includes learning from different perspectives and cultures, and they wished to support such learning among UBC graduate students and medical residents.
Friedman Scholars receive funding for six or more months of study outside western Canada. Destinations for this year's award winners include Harvard University, Ludwig Maximilian University of Munich, King's College, Johns Hopkins University, and Dalhousie University.
2018 Friedman Scholars:
Raquel Baldwinson is PhD Candidate in the Department of English with an emphasis in Rhetoric and a specialization in Science and Technology Studies. The Friedman Award allows Raquel to embark on her second consecutive year as a Visiting Fellow in the Department of History of Science at Harvard University. Raquel's research centres on the problem of doubt in global health— that is, on how multiple national publics began to lose faith in the actions and words of the key actors and institutions in global health. Combining rhetorical inquiry with the analytics of history and anthropology, Raquel's scholarship chronicles the operations and effects of doubt-producing discourse. Raquel's study aims to improve our understanding of the conditions of doubt which impede support for one of today's most significant forms of global social action.
Hooman Esfandiari is a PhD candidate in Biomedical Engineering, and his primary research focuses on developing an automatic and robust process for assessing in an intraoperative setting how accurately a screw has been placed in the spine. Under the mentorship of Simon Weidert at Ludwig Maximilian University of Munich, Hooman will implement virtual reality (VR) to report precise positional information to the orthopaedic surgeons by projecting a three-dimensional model of the intended implant onto the patient's anatomy before the implant insertion. The objective is to improve surgical outcome by avoiding inaccurate implantation.
Dr. Christina Luong is an Echocardiography Fellow at the Vancouver General Hospital and a Master's students at UBC's School of Population and Public Health. Under the mentorship of Patricia Pellikkaat the Mayo Clinic in Rochester, Dr. Luong will master specialized clinical skill of directing and interpreting stress echocardiography and complete research on the use of stress echo for valvular heart disease to assist in clinical decision-making and patient outcomes. Dr. Luong intends to use her training to expand the stress echocardiographic program at UBC/VGH.
Anita Minh is a second-year PhD student in Population and Public Health. Under the mentorship of Ute Bültmannat the University Medical Center Groningen (UMCG), the Netherlands, Anita will investigate how societal factors (systems) shape young people's mental health over their life course. At UMCG, Anita will have access to the Tracking Adolescents' Individual Lives Survey (TRAILS), a longitudinal dataset from the Netherlands, and will collaborate with researchers in the fields of public health and life-course epidemiology. For her PhD dissertation, Anita aims to produce comparative case studies of young people from Canada, the United States, and the Netherlands.
Dr. Mohammadreza (Sam) Pakyari completed medical training in Iran, and he is currently a PhD candidate in Experimental Medicine at UBC. Under the mentorship of Curtis L. Cetrulo, Jr.at Massachusetts General Hospital, Dr. Pakyari will test a novel approach for preventing immune rejection. Specifically, this approach involves the introduction of fibroblasts over-expressing an immunosuppressive enzyme known as Indoleamine 2-3 Di-Oxygenase (IDO) to skin allografts in a mouse model, with the goal of eliminating immunosuppressive drugs without graft rejection. This approach can be translated to clinical vascularized composite allotransplantation and also be applicable to solid organ transplantation. This opportunity is essential to Dr. Pakyari's training to become a researcher-clinician in the field of transplantation immunology and regenerative medicine.
Dr. Andrew Perrin completed his MD/PhD at the University of Toronto in 2013, and he is currently a Medical Resident in Adult Psychiatry at UBC. Under the mentorship of Carmine M. Pariante at King's College London, Dr. Perrin will undertake research on how antipsychotic medications impact hippocampal neurogenesis and will join a translational research program studying immune-inflammatory dysfunction in depression and other mental illnesses. This opportunity will enable Dr. Perrin to become a psychiatrist-scientist to cell culture, animal model, and clinical studies of depression and anxiety.
Ashleigh Rich is a second-year PhD student in Population and Public Health. Under the mentorship of Tonia Poteat at the Bloomberg School of Public Health at Johns Hopkins University (JHU), Ashleigh will investigate the epidemiology of multimorbidity among the HIV-positive transgender people in British Columbia, and across the US and Canada. At JHU, Ashleigh will have access to the North American AIDS Cohort Collaboration on Research and Design (NA-ACCORD), which is the largest dataset and is widely representative of HIV care in North America, and will collaborate with the NA-ACCORD biostatistics and epidemiological core team.
Lindsay Richter is currently an MSc student in the Reproductive and Developmental Sciences program at UBC. Under the mentorship of Christine Chambers at Dalhousie University, Lindsay will develop content related to neonatal health as part of the "A Spoonful of Science" initiative, which is aimed at sharing evidence-based research on child and maternal health directly with parents online and over social media. She will also learn how to effectively communicate science to parents. After completing this learning opportunity, Lindsay intends to commence her MD/PhD program at UBC in August 2019. 
Erika Siren is currently a Ph.D candidate at the Centre for Blood Research. Under the mentorship of Jeffrey Karp at the Harvard Stem Cell Institute and Jerome Ritz at Brigham and Women's Hospital, Erika Siren will focus on developing inexpensive and innovative approaches to improve the scaled-up production of more potent and reliable mesenchymal stem cells (MSC) treatments for cancers and other chronic disorders. Specifically, Erika will use biomaterials (as they are inexpensive, non-immunogenic, and easy to synthesize in large quantities) for controlling cell behaviours and translate current lab-based methodologies into clinical trials. This opportunity allows Erika to explore and experience cell-based therapies from an academic, clinical, and commercial perspective and to advance her career through interdisciplinary collaborations.