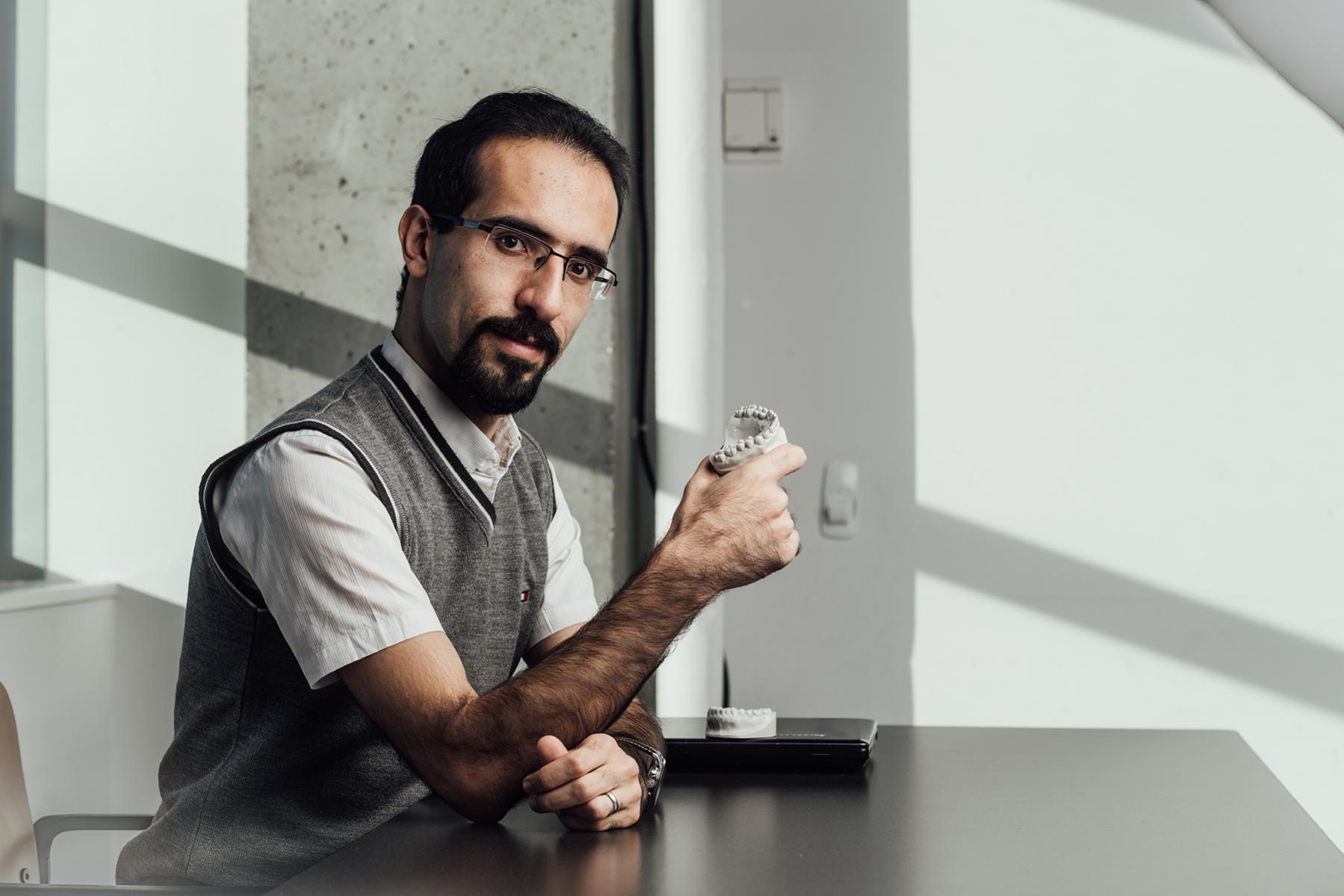 Amir Abdi, a doctoral student in the Department of Electrical and Computer Engineering, has received the $10,000 NSERC Gilles Brassard Doctoral Prize for Interdisciplinary Research, one of six national prizes awarded annually by NSERC.
Abdi and his team use dentistry and computer science to develop technology that accurately models patient-specific jaw motions. This research may help improve the treatment of head and neck cancer patients, whose ability to speak and eat is often compromised.
Abdi was the first person in Iran to simultaneously study dentistry and computer engineering and obtain, with honours, both a dental degree and a master's degree in computer engineering. After practicing dentistry for two years, he decided to combine his academic interests through doctoral studies in the with the Biomechanical Modeling Group in the Human Communication Technologies Lab at UBC.
While any cancer diagnosis is devastating, head and neck cancer is particularly challenging—for both patient and doctors—because of the complexity of the human face and neck. Each year, 700,000 people worldwide are diagnosed with head and neck cancer. They face changes in their facial appearance, as well as their ability to speak and eat.
The goal of Abdi's team is to create a model that accurately simulates patient's chewing and swallowing. This will allow clinicians, speech-language pathologists, and prosthodontists to predict the outcomes of different treatment strategies and then to choose the best treatment option for a particular patient. This research is an important step forward for personalized medicine, and will help increase the quality of life for patients around the world.
The $10,000 NSERC Gilles Brassard Doctoral Prize was established in 2012 by Gilles Brassard, the winner of the 2009 Gerhard Herzberg Canada Gold Medal for Science and Engineering. This award is given to a recipient of an NSERC Vanier Canada Graduate Scholarship for exemplary interdisciplinary research. The Vanier Canada Graduate Scholarships support grad students who demonstrate academic excellence, research potential, and leadership skills.
For more information visit:
Amir Abdi: NSERC Gilles Brassard Doctoral Prize for Interdisciplinary Research
Tuesday, 07 February 2017