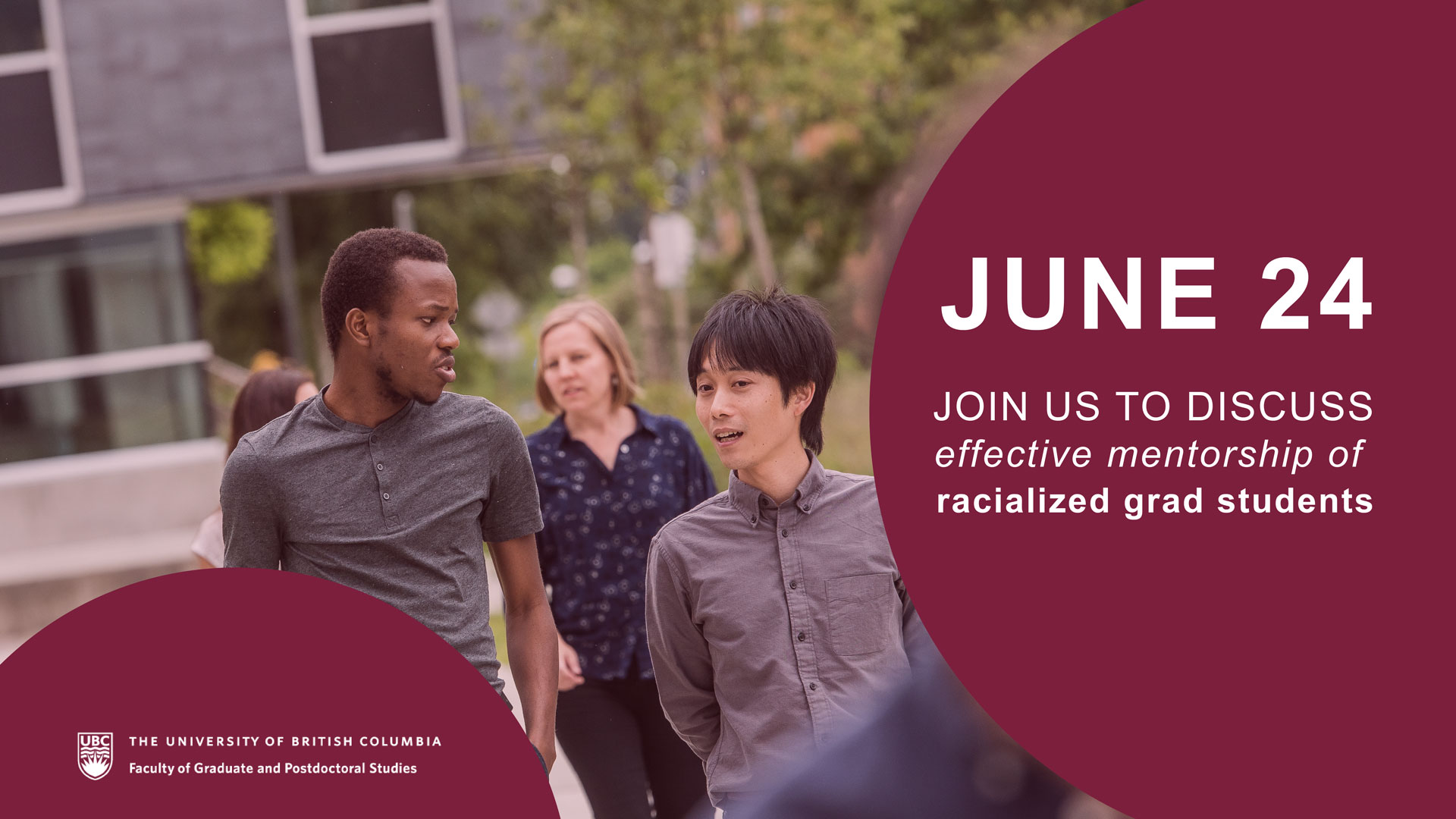 On June 24, attend a day-long forum on effective mentorship of racialized graduate students.
Hear from students and mentors on the value of diversity in graduate education, and discuss how we can all contribute toward a safe, respectful, and more equitable learning sphere for racialized students at UBC. 
The forum will be held at St. John's College and will include:
mentorship reflections from students and participating mentors
discussions on the value and current state of racial diversity in graduate school
talks on the key challenges such as communication barriers, unconscious biases, and power differentials
The forum will include two keynote speakers, a panel discussion with graduate students and faculty members, and an opportunity for smaller group discussions and sharing.
Open to all interested faculty, staff and students, this event will allow racialized graduate students at UBC to have their voices heard, and their experiences acknowledged and shared with UBC administration, faculty and beyond in an attempt to enhance racialized graduate experiences at UBC.
Are you a faculty member involved in anti-racism advocacy and interested in sharing your experiences on the effective mentorship of racialized graduate students? Connect with the EMRGS team at graduate.communications@ubc.ca.
This project is funded by the UBC Anti-Racism Initiatives Fund and Graduate and Postdoctoral Studies (G+PS). It is led by Dwayne, PhD student in Reproductive and Developmental Sciences, and Negar Khodarahmi, PhD student in Human Development, Learning, and Culture, with UBC staff support from Theresa Rogers, Associate Dean, and Kelli Kadokawa, Graduate Program Support Manager, both from G+PS, and Emi Sasagawa, Communications Manager from the Faculty of Arts.