Guest blog post authored by graduate student Parker Li (PhD candidate, Political Science)
Work-life balance is essential to success at grad school. You can't study all of the time and making time to recharge will help you thrive during those stressful moments. Thankfully, there is a lot to do in and around Vancouver when it's time to take a break.
In this blog, I've pulled together some recommendations from current grad students and alumni, and added some of my own.
Friday night art and art on campus
Vancouver Art Gallery is located smack bang in the middle of downtown. This is a must-visit with regular exhibitions from around the globe plus a permanent collection representing the most comprehensive resource for visual culture in BC. You can visit the gallery for free on the first Friday of every month. Enjoy the gallery as well as free DJ sets and guided sessions for some exhibits.

The Morris and Helen Belkin Art Gallery on campus is free to UBC grad students. This fine art gallery, established in 1948, has a collection of more than 5,000 works - making it one of the largest public art collections in BC. Located close to UBC's Rose Garden, 'The Belkin' as it's affectionately known is a great place to step back and grab some quiet time while enjoying its latest exhibition.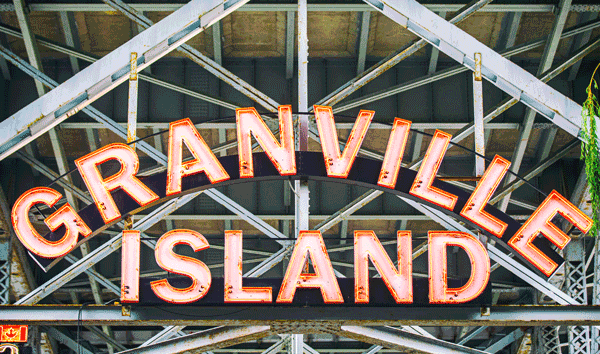 Granville Island
The first thing you should know is that Granville Island is not actually an island – it's a peninsula. Offering one of Vancouver's most visited and beloved public spaces, the market is open daily. This exciting artistic and cultural hub has theaters, artisan shops, boutiques, restaurants and an amazing food market. Enjoy free food samples, listen to buskers, and catch a demonstration from one of the artists on the island – sake making, glass blowing, print making and more.
Instagramming Downtown
Vancouver's Olympic Cauldron is also worth a visit. A symbol of the 2010 Winter Olympics, the Olympic Cauldron is located at Jack Poole Plaza near Coal Harbour. A very Instagram-able spot, take in views of the North Shore Mountains, Stanley Park and Burrard Inlet.
Downtown Vancouver is a short bike or bus ride from Granville Island. We'd recommend checking out the Vancouver Public Library (VPL). VPL is not just a home for countless books, but also a treasure trove of free movies, video games, newspaper subscriptions, sports equipment and even camping gear! It's basically a treasure chest of free goodies, and a beautiful building to get cozy in as well. As an architectural beauty and a popular filming spot downtown, it is another Instagram-worthy location.
"Plan your time in Vancouver as if you may only be here for the duration your graduate program. Take advantage of the opportunities to explore the area; experience the art galleries, museums, restaurants, food trucks, stores, parks, performances, tours and scenery of the city. Venture further away as well to the forests, lakes, towns and farms that surround Vancouver." – Trevor Arsenault, Alumni
Movie nights
Summertime is movie time! People can find free movie screenings at the Queen Elizabeth Theatre Plaza, Stanley Park, Vancouver Art Gallery Plaza, and many other spots in the city. For instance, Stanley Park Summer Cinema is a series of free outdoor movie screenings that take place at Second Beach in Stanley Park from early July to late August. The seats are available for up to 5,000 people on a first-come, first-served basis.
Also, Vancity Theatre, the cinematheque, Rio Theatre, and event Cineplex sometimes offer free admission to the public. Subscribe to their newsletters to hear about free tickets. Vancouver International Film Festival is hosted every year from late September to early October. During the festival, there are some free-admission movies, as well as low admission screenings.
If streaming is more your thing then you should know that your UBC Library Card is a ticket to thousands of movies, ranging from cult favourites to Hollywood blockbusters and foreign films. Stream movies through Videomatica for free with your UBC card.
History on campus
As a grad student at UBC you'll have free access to museums on campus. We recommend the Museum of Anthropology (MoA), a place of world arts and cultures with a special emphasis on the Indigenous Peoples and other cultural communities of BC. There are guided tours so you can take a deep dive into the cultural and historical background of the Musqueam, on whose land UBC Vancouver is located.   
Also, be sure to visit the Beaty Biodiversity Museum. The museum houses an extensive collection of over two million specimens, including the suspended skeleton of a blue whale which stretches over 25 meters.
The great outdoors
One of the real joys of living in Vancouver is the access to amazing parks, mountain trails and the Pacific Ocean. We could easily do a blog just on Vancouver's parks (and maybe we will soon!), but for now, here are just a few favorite outdoor spots.
Pacific Spirit Regional Park is next to campus, has over 73 kilometers of trails that wind through forests, wetlands, and along sandy beaches.
"When the campus is surrounded by a forest, take advantage of it. Trees help you think!" – Jonathan Eaton
Wreck Beach, situated on the western end of campus, is a well well-known clothing-optional beach, attracting locals and visitors who enjoy the freedom of sunbathing and swimming without clothing. The trek down, although long, is worth the hike to enjoy an unparalleled sandy beach and beautiful ocean view.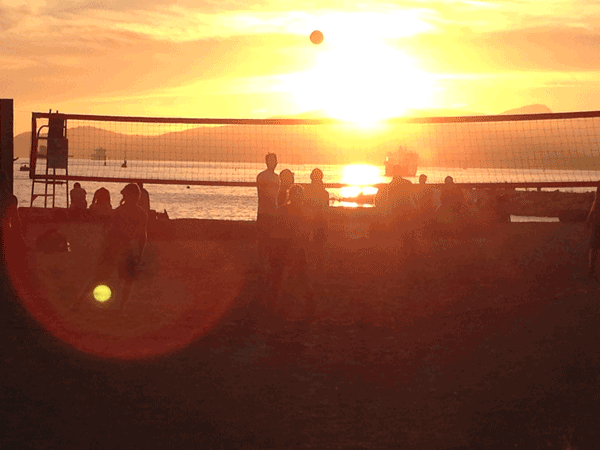 Kitsilano Beach, aka Kits Beach, is a place to see and be seen. A popular spot for beach volleyball, frisbee and sunbathing, enjoy amazing ocean views of the North Shore Mountain and downtown while looking your coolest!
Stanley Park is arguably the most iconic park in Vancouver. Stanley Park offers scenic walking and biking paths (Seawall), lush forests, beautiful beaches (Second Beach & Third Beach), Indigenous totem poles, and stunning views of the city skyline and mountains. You can find beauty and fun all year long.
Check out English Bay next to Stanley Park. Always a lot going on here, highlights include the annual Celebration of Light Fireworks display, the Pride Parade in August and the New Year's Day Polar Bear Swim.
"Walking in Pacific Spirit Park or Stanley Park! The fall leaves changing colour are so beautiful (and fun to jump in)" – Halina Deptuck, Ambassador