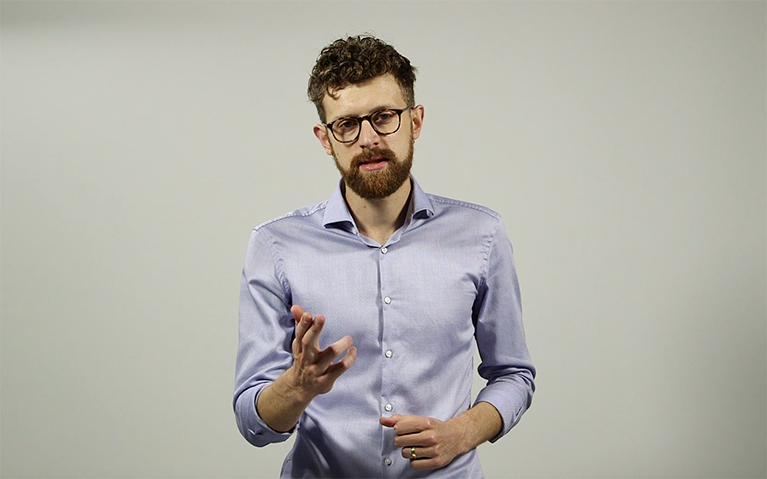 UBC PhD candidate Craig Jones is competing for the top prize in the U21 3MT Competition. Between now and October 24, watch Craig's presentation, The War Lawyers, on the U21 3MT competition page, and then vote for your favourite! Don't forget to share your choice for 3MT champion on social media using #U213MT.
First developed by the University of Queensland in 2008, the Three Minute Thesis competition (3MT®) challenges research students to communicate the significance of their projects to a non-specialist audience in just three minutes. Starting in 2013, U21 universities began an annual 3MT competition against one another. Each participating member holds their own internal 3MT competition to select a local winner who will then be put forward for the U21 final, to be judged by an international panel consisting of industry and academic professionals. Craig Jones is UBC's 2016 winner, now in contention for the grand prize.
Craig is a PhD candidate in the Department of Geography. He is currently working on his first book, The War Lawyers, about the role that military lawyers play in the conduct and outcome of lethal targeting operations carried out by the US and Israel in Afghanistan, Iraq and Palestine.
Voting for the People's Choice awards is open until October 24. On November 1, the winners will be announced!
Interested in the 2017 3MT competition?
Are you a UBC PhD student eager to present your research in just three minutes? Enter the 2017 UBC 3MT competition! Details the competition, as well as dates for training workshops, will be announced soon at 3mt.grad.ubc.ca. Stay tuned for details.