How does it feel to be competing as a cross-country skiing guide in the Sochi 2014 Paralympics, and then graduating with a PhD from UBC a few weeks later?
Andrea Bundon knows. And no-one will be surprised to hear that she's "very excited".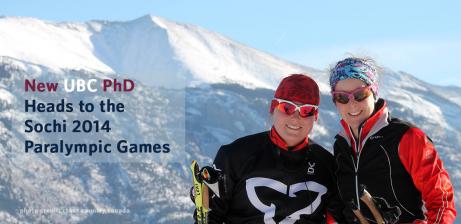 Andrea (pictured right) first met Paralympian Margarita Gorbounova (pictured left) at the 2010 Paralympics in Vancouver. They were both working with other members of the Canadian team at that time, but two years later they began to ski together, despite the fact that Margarita lived and trained in Ottawa and Andrea in Vancouver. But in the truest sense of "cross-country" the pair would meet up at the many training camps and races held in the Banff/Canmore area and now have the opportunity to test their teamwork on the world stage at Sochi, Russia
Margarita, a cross-country skier of Russian decent, has between five and ten per cent vision and needs a guide to help her follow the trails. Andrea is happy to be guiding Margarita in Sochi, and comments: "She gets a guide and I get a translator!"
As well as being physically involved in assisting Paralympians, Andrea has also helped to demonstrate how they can be assisted through online networks. Her doctoral work at UBC in the field of Human Kinetics explored how athletes with impairments are using the Internet to communicate, to advocate for disability rights, and to promote disability sport.
Asked how prepared she was for graduate school, Andrea reflects that before she started graduate school, she had been in awe of students doing advanced academic work.  Once she began her own journey, she realized: "Grad school is really a series of incremental steps". If she were to start her PhD again, Andrea says: "I would be more fearless…Sometimes you need to plunge right in." 
No doubt taking one step at a time and being fearless are strategies that Andrea will also adopt for her Paralympic competition.  Let's hope she and Margarita reach the finish line safely and successfully.  Best wishes to the two of them, and to everyone on Team Canada.
After the Paralymics conclude, Andrea will be heading back to her new postdoc position in the UK at  Loughborough University.
For more on UBC's School of Kinesiology
To read Andrea's PhD Dissertation: Authors, audiences, and advocates ... but athletes first : blogging and the Paralympic Movement
Tuesday, 25 February 2014