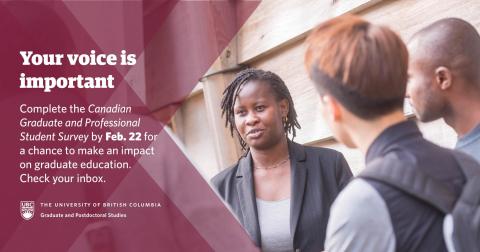 The 2022 Canadian Graduate and Professional Student Survey (CGPSS) is open until February 22. All graduate students are invited to participate and share their voice.
The objective of the CGPSS is to provide quantitative data on various aspects of the graduate student experience. Students are asked to evaluate their overall experience, as well as to evaluate program-specific, department-specific, advisor/supervisor-specific and university-wide aspects of their educational experience. In 2019, 50 institutions of various sizes from across Canada participated, including more than 2,000 students from UBC.
Taking about 20 minutes to complete the survey will dramatically help UBC - look for the survey in your inbox from grad.survey@ubc.ca and complete it for the chance to win one of five $100 UBC Food Services giftcards.
We hope to share the results of the survey with the general public in late spring, early summer.