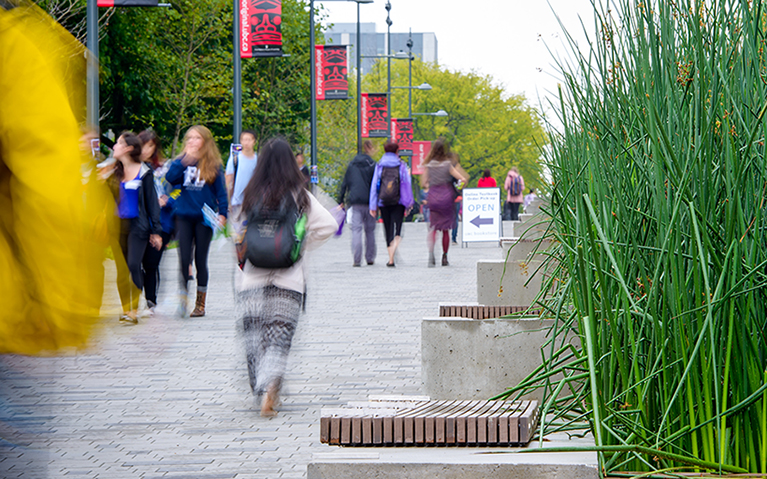 UBC graduate students and postdoctoral fellows were making news all August with their research and expertise. Here's a roundup of some of the articles they were featured in (many stories were featured in multiple media outlets):      
August 31: Scientists discover non-invasive technique to monitor migraines
MASc student Zoya Bastany and a team of researchers has found a way to diagnose brainwaves associated with migraines and epilepsy using electrodes on the scalp, rather than the invasive, on-brain probes currently used for such diagnoses.
news.ubc.ca/2016/08/31/scientists-discover-non-invasive-technique-to-monitor-migraines/
August 31: Four lessons learned from a summer on the Street
Aubrey Chapnick, an MBA student at the Sauder School of Business, explains what he has learned as an intern in capital markets.
www.theglobeandmail.com/report-on-business/careers/business-education/four-lessons-learned-from-a-summer-on-the-street/article31598015/
August 29: Burnaby Boom: 'Inevitable' Redevelopment Leaves Renters Insecure
The Tyee quotes Craig Jones, a geography PhD candidate, in an article about Burnaby's building boom.
www.thetyee.ca/News/2016/08/29/Burnaby-Boom-Inev-Redev/
August 29: QEW toll lanes were met with strong demand – but will it last?
The Globe and Mail interviewed Ashley Whillans, a PhD candidate in social psychology, for a story about toll lanes in Toronto. Whillans is conducting research into what makes people happier: having additional time at a small cost, or keeping the cash but experiencing a longer commute.
www.theglobeandmail.com/news/toronto/qew-toll-lanes-were-met-with-strong-demand-but-will-it-last/article31581215/
August 25: Andrew Westoll's The Jungle South of the Mountain inspired by scientist's experience with capuchin monkeys
MFA alum Andrew Westoll's new book is featured in an article in Metro News.
www.metronews.ca/views/book-worm/2016/08/24/andrew-westoll-the-jungle-south-of-the-mountain-review.html
August 25: In Defence of Those Stoned Rats Science Just Labelled 'Lazy'
PhD candidate Mason Silveira is quoted in a Vice article about research on how THC affects rat motivation.
www.vice.com/en_au/read/what-if-stoned-rats-arent-lazy-theyre-just-over-your-shit-science
August 24: African bird shows signs of evil stepdad behaviour
UBC postdoc Martha Nelson-Flower has found that the southern pied babbler, a black and white bird found in Botswana, Namibia, South Africa and Zimbabwe, acts like an evil step-dad. The bird favours his biological sons and alienates his stepsons, forcing them to join other groups as subordinates or live alone.
news.ubc.ca/2016/08/24/african-bird-shows-signs-of-evil-stepdad-behaviour/
August 23: Q and A: Cross-genre novel sets werewolves in India
The Calgary Herald featured a Q&A with UBC MFA alum Indra Das, about his new novel, The Devourers.
August 23: Considerable effort goes into rehabilitating seal pups
A 2015 study by PhD student Ben Nelson, is quoted in a Vancouver Courier article about harbour seal rescues. According to Nelson's research, harbour seals may be impeding the recovery of juvenile chinook and coho salmon in the Strait of Georgia.
www.vancourier.com/news/considerable-effort-goes-into-rehabilitating-seal-pups-1.2329144
August 16: UBC Thunderbirds football team tackling concussion threat head-on
The CBC featured research on concussions by PhD candidate Harrison Brown. Brown is working with the TBirds to explore the impact that practices with less padding have on players.
www.cbc.ca/news/canada/british-columbia/ubc-football-taking-threat-of-concussion-head-on-1.3723804
August 12: Let's Face It: Clinton Looks More Trustworthy Than Trump
PhD student Alysha Baker and Professor Stephen Porter were interviewed for an article about how Hilary Clinton's facial features are perceived as more trustworthy than Donald Trump's.
www.healthline.com/health-news/clinton-looks-more-trustworthy-than-trump#2
August 8: A neuroscientist author blinds readers with science
Jay Hosking, a two-time UBC grad school alum, is featured in Maclean's. Hosking has a PhD in neuroscience as well as a MFA in creative writing. He recently published Three years with the Rat, a science fiction thriller.
www.macleans.ca/culture/a-debut-novel-from-neuroscientist-jay-hosking-three-years-with-the-rat/
August 4: Spider sharing isn't always caring: Colonies die when arachnids overshare food
The spider species Anelosimus eximius shares food with each other, but when resources are scare, this generosity can lead to massive die-offs.
"It's an unfortunate byproduct of what they have to do survive," said lead author Ruth Sharpe, a PhD student in zoology. "It's a puzzle because in this case, evenly splitting resources may not be beneficial to the colony."
news.ubc.ca/2016/08/04/spider-sharing-isnt-always-caring-colonies-die-when-arachnids-overshare-food/
August 3: Father to daughter: I don't need to Purell before holding my grandchild
Marie-Claire Arrieta, a UBC postdoctoral fellow, is featured in an article about babies and germs. Arrieta, alongside co-author B. Brett Finlay, recently published "Let Them Eat Dirt: Saving your child from an oversanitized world".
www.chicagotribune.com/lifestyles/health/sc-dirty-baby-family-0816-20160803-story.html
August 3: Opinion: Thousands of Canadians with chronic conditions denied life-saving treatments
The Vancouver Sun published an op-ed by PhD candidate Heather Palis on Canadians with chronic opioid use disorder who do not receive adequate treatment.
vancouversun.com/opinion/opinion-thousands-of-canadians-with-chronic-conditions-denied-life-saving-treatments
August 3: Second phase underway for UBC study probing how commuter decisions affect mood
The Vancouver Sun mentioned recruiting efforts for a study on how commuter decisions affect mood. PhD student Ashley Whillans, explained that the study will investigate how drivers commute and how their decisions on the road affect their mood.
vancouversun.com/news/local-news/second-phase-underway-for-ubc-study-probing-how-commuter-decisions-affect-mood
August 3: Eating disorders plague LGB youth
The Washington Blade quotes Ryan Watson, a post-doctoral fellow at the school of nursing and lead researcher on a study on eating disorders in gay, lesbian and bisexual youth. According to Watson, the research suggests that the healthy eating and body-image programs that seem to be working for straight youth haven't reached lesbian, gay and bisexual kids.
www.washingtonblade.com/2016/07/29/eating-disorders-plague-lgb-youth/
August 2: How the practice of sex-testing targets female Olympic athletes
UBC kinesiology PhD candidate Sandy Wells was interviewed by the Toronto Star for a story about the history of sex-testing among female Olympians.
"Every generation of sex testing has been accompanied by a generation of activists and critics, and they've all pretty much had the same criticisms — which is that sex cannot be differentiated so easily," Wells said.
www.thestar.com/news/world/2016/07/31/why-the-olympics-cant-figure-out-who-is-a-man-and-who-is-a-woman.html
Did we miss anything?
Did we miss a great story featuring one of our grad students or postdoctoral fellows? Let us know! Email melinda.johnston@ubc.ca or tweet us the link at @UBCGradSchool.
Thursday, 08 September 2016