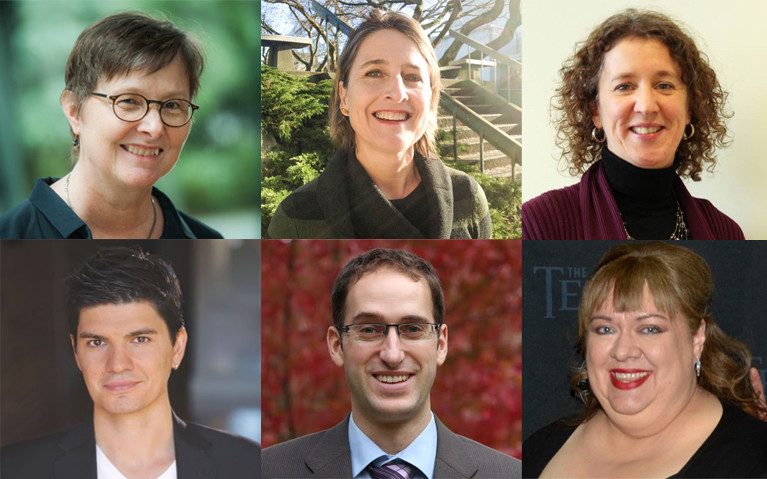 This year's Promotion of Excellence Award went to UBC's Graduate and Postdoctoral Studies (G+PS) team, while Graduate Pathways to Success Manager Jacqui Brinkman received the Visionary Award.
At its 29th Annual Conference taking place on 13-16 April 2016 in Nashville, TN, the Association for Graduate Enrollment Management (NAGAP) honoured UBC's G+PS Office.
The Promotion of Excellence Award, which is "presented to an institution in recognition of a new or existing methodology", was conferred to G+PS' three interrelated initiatives:
Public Scholars Initiative: a pilot program supporting novel and collaborative PhD pathways to encourage purposeful social contribution and broader career readiness for doctoral students.
Outcome Tracking: a research project on the post-graduation careers of PhDs to inform current program curricula and development activities. 
Alumni Profiles: stories of graduates that showcase the full breadth of career paths after completing a graduate degree, as well as their advice to current students.
In email correspondence, NAGAP Vice President Julia B. Deland kindly praised these undertakings: "the committee was impressed by your commitment to preparing doctoral students for career paths beyond the academy, including your Public Scholars pilot initiative as well as your pursuit of outcome tracking and spotlighting alumni profiles and advice".
Besides the institutional award, NAGAP's Visionary Award went to Graduate Pathways to Success (GPS) Manager Jacqui Brinkman. This award is given annually "to an individual in the higher education community who has demonstrated a unique and innovative vision".
In addition to organising an average of 70 grad student workshops each year under GPS, Jacqui's long list of accomplishments and involvement in various activities include organization of the Three Minute Thesis competition, PhD Connections Lunches, Tapestry Masterclass Speaker's Series, Orientation, and Alumni Profiles on the G+PS website.
Congrats Jacqui, and the G+PS team!