Dr. Matthias Görges is the recipient of a 2014 UBC Killam Postdoctoral Research prize. Awarded annually, the prestigious $5,000 prize is given in recognition of the distinguished research achievements of a UBC postdoctoral fellow during their time at UBC.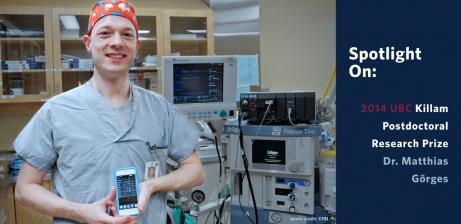 Dr. Görges is an exceptional biomedical engineer who specializes in combining engineering and clinical research. As a member of the Electrical and Computer Engineering in Medicine/Pediatric Anesthesia Research Team, his work has included design and evaluation of mobile information displays, for improving patient monitoring and team communication in operating rooms and critical care units, and development of systems that support healthcare teams in treatment decision making. 
Based on his accomplishments, it is a certainty that in whatever he chooses to pursue after his postdoctoral training at UBC, Dr. Görges will only strengthen his already prolific and exemplary research career. Research conducted by him as a PhD candidate at the University of Utah and as a postdoctoral fellow at UBC has already resulted in the development of not one, but three innovative and clinically significant advances in the way in which clinical information is presented: a blood pressure titration advisory system, a far-view display supporting a triaging task, and the creation of telePORT at UBC.
Dr. Görges led the UBC team that created and developed telePORT– the Portable Operating Room Tracker – an iPod-based, wireless system that dramatically improves communication among anesthesia team members. telePORT is now in daily evaluative use at BC Children's Hospital. The ability to lead a team from concept, to prototype, testing, and refinement of a clinically significant technological solution, stems in part from a rare, but critically important balance in Dr. Görges' skill set.
His research supervisors, Dr. Guy A. Dumont, Professor, Electrical and Computer Engineering and Dr. J. Mark Ansermino, Associate Professor/Director of Pediatric Anesthesia Research, Dept. of Anesthesiology, Pharmacology & Therapeutics also highlight his personal qualities of a strong work ethic and dedication to acting as a resource and collaborator to all the members of his research group as being fundamental to his success. They write, "…he is constantly making himself available to troubleshoot the work of others and the team's collective research has greatly benefitted from his expertise and experience. "
For more on the research and publication record of Dr. Matthias Görges see his Mendeley profile.
Two Killam Postdoctoral Fellow Research Prizes are awarded annually for excellence in research. The Postdoctoral Fellows Office (PDFO) at UBC's Graduate and Postdoctoral Studies awards these $5,000 prizes annually in the hope that the award will help propel the recipient's professional careers to heights beyond those already demonstrated in their current work.
Established in 2011, the Killam PDF Prize is in memory of Izaak Walton Killam and his wife, Dorothy Johnston Killam, who together created the Killam trusts.
Eligibility, procedures and deadlines for the UBC Killam Postdoctoral Research Prize.