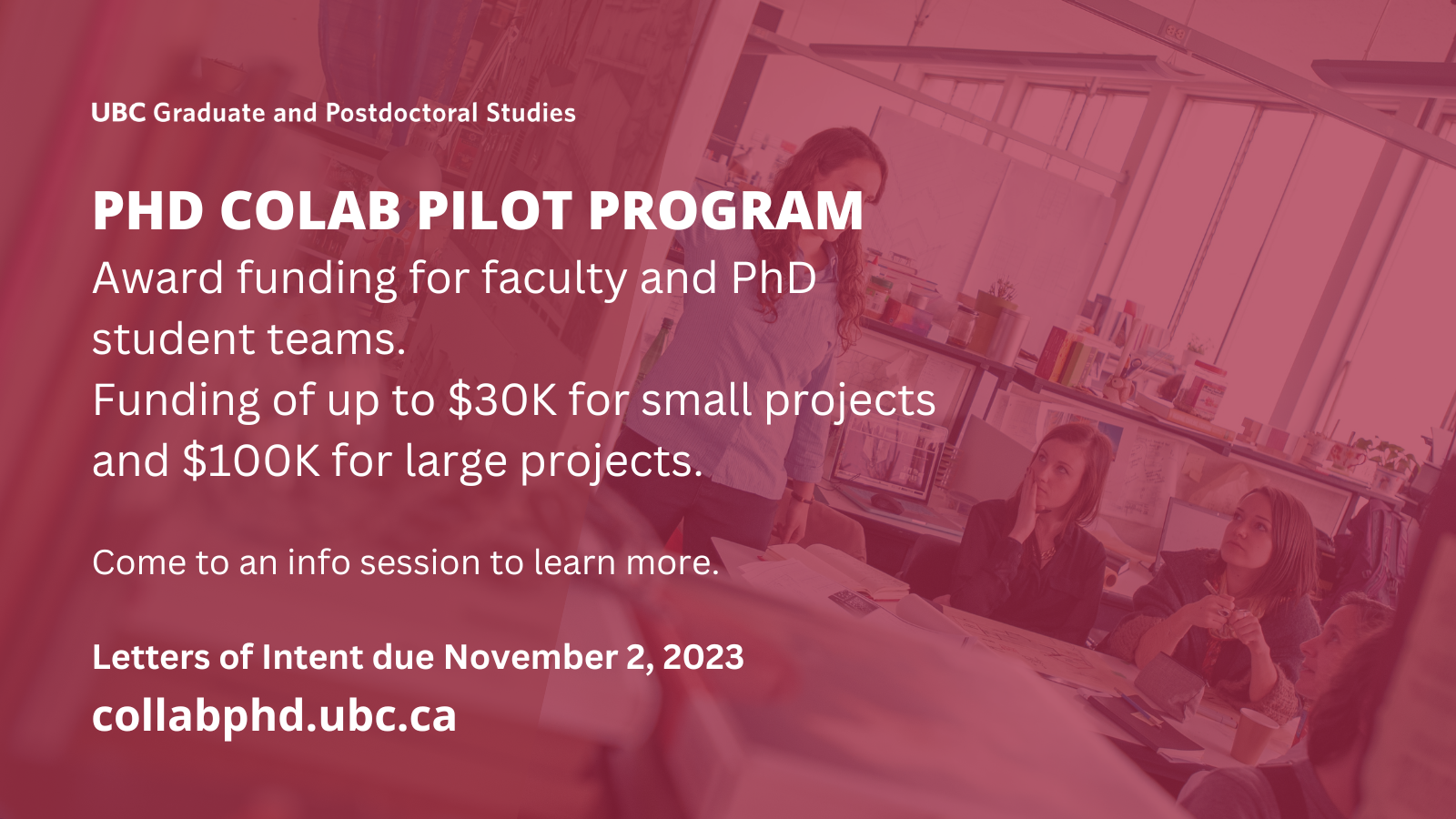 The Office of the Dean and Vice-Provost of Graduate and Postdoctoral Studies invites faculty members and PhD student teams to submit a proposal for the PhD CoLab Pilot Initiative.
The PhD CoLab pilot provides guidance and awards up to $100,000 to support inter/transdisciplinary teams of UBC PhD students, faculty members, and others as appropriate, to work together on the co-production of new knowledge and/or applications to address complex questions or problems. 
Register for a virtual Info Session to learn more: 
This new pilot initiative will support "large" projects – multi-year collaborative projects – as well as "small" shorter-term collaborative projects. Large projects will receive up to $100K in funding, while small projects are eligible for up to $30K.
Through this pilot, PhD students will be able to collaborate not just with one another, but with faculty, but also with partners in non-academic sectors. Working as a team to design, conduct and produce outputs from the scholarly work together is anticipated. The collaborative work should be designed to meet both the students' academic learning needs and, as relevant, broader societal or stakeholder objectives.
In addition to promoting UBC research on important issues, the purpose of the pilot is to incentivize and enrich PhD student learning in collaborative, inter/transdisciplinary approaches to research and scholarship. 
Teams are encouraged to apply, provided they meet the considerations and criteria. The first step of applications is to submit a Letter of Intent to the attention of Dr. Jenny Phelps, Assistant Vice-Provost, Graduate & Postdoctoral Studies at jenny.phelps(at)ubc.ca. 
The letter should be no longer than 4 pages and should include a high-level proposal, team composition, potential outputs of the work, draft budget and other relevant information. For more information and for the LOI instructions, visit the website. After thorough review, shortlisted LoIs will be invited to submit a full application, to be due in January.
Letters of intent for the 2023/24 PhD CoLab pilot are due by 4 p.m. on Thursday, November 2, 2023. 
For further information, contact Dr. Jenny Phelps or visit the website.
Thursday, 14 September 2023