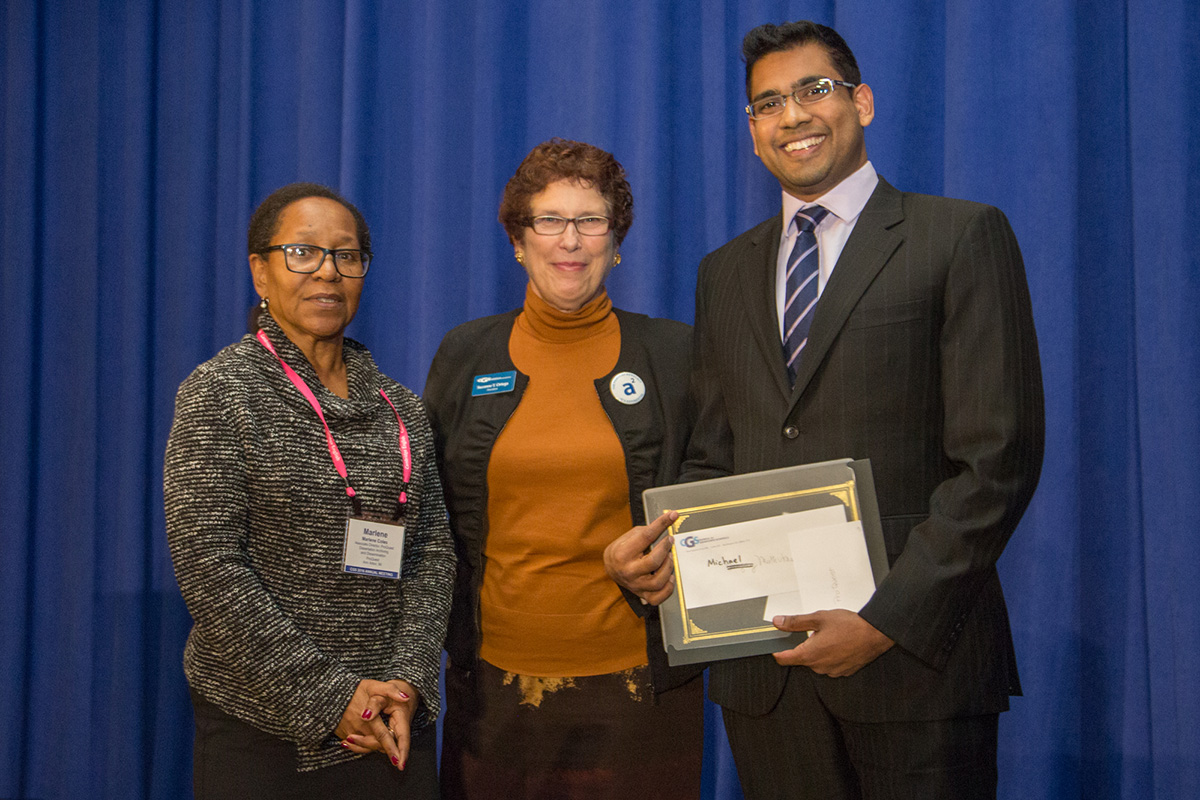 From left: Marlene Coles, ProQuest; Suzanne Ortega, CGS; and Michael Muthukrishna.
Michael Muthukrishna (PhD '15) has been selected as the winner of the prestigious 2016 CGS/ProQuest Distinguished Dissertation Award in the Social Sciences, for his dissertation, The Cultural Brain Hypothesis and the Transmission and Evolution of Culture.
In his dissertation, Muthukrishna discusses theories to explain the evolution of the human brain and human social networks. His findings suggest that human "smarts" are acquired, not hardwired, and the key lies in our social networks.
Muthukrisha's ideas explain the increase in brain size across taxonomic groups, and predict relationships between brain size, knowledge, group size, social learning, and the length of the juvenile period. He also discusses the conditions under which these evolutionary processes lead to a positive feedback loop between brain size and knowledge. Muthukrishna argues that these conditions are the key to what makes the human pathway unique.
Muthukrishna, currently an assistant professor at the London School of Economics, received his PhD in Psychology in 2015. "My time at UBC will remain some of my fondest memories. I had a wonderful team of advisors between Joe Henrich, Mark Schaller, and Steve Heine," he says.
"UBC provided a rich intellectual environment, where I was free to take classes from researchers in statistics, biology, and economics. I learned a lot from my cross-department collaborations with people like Ted Slingerland (Asian Studies), Michael Doebeli (Zoology), and Patrick Francois (Economics). I would like to thank UBC and the Vanier Canada Graduate Scholars program for all their support," he adds.
One of Muthukrishna's research goals is to develop a theory of human behavior that is grounded in human evolution and biology, but which reorganizes the psychological and behavioral sciences. His dissertation was part of this effort.
"My general approach to research is 'non-disciplinary' or 'undisciplined' in that I think interdisciplinary approaches work best when the focus is on the questions," he explains. "Tools are brought to the table based on how well they can answer those questions. Winning this award was truly an honor and also validation of this research agenda and this approach to science."
Muthukrishna received the CGS/ProQuest Distinguished Dissertation Award at a ceremony on December 8, in Washington, DC. 
About the CGS/ProQuest Distinguished Dissertation Award
Bestowed annually since 1982, CGS/ProQuest dissertation awards recognize recent doctoral recipients who have already made unusually significant and original contributions to their fields. ProQuest, an international leader in dissertation archiving, discovery, and access, sponsors the awards and an independent committee from the Council of Graduate Schools selects the winners. Two awards are given each year, rotating among four general areas of scholarship. The winners receive a certificate, a $2,000 honorarium, and funds for travel to the awards ceremony.
Tuesday, 13 December 2016