Now entering its eighth year, UBC's Public Scholars Initiative (PSI) has announced 45 new doctoral students for the 2022/23 academic year.
How can a PhD student change the world for the better? The Public Scholars Initiative (PSI) recognizes UBC doctoral students who are doing research that extends beyond the traditional approach. These students are doing work for the public good, in collaborative, interdiscplinary ways.
Launched in 2015, the PSI encourages community-engaged research as well as collaborative research. Three new scholars from the Institute for Resources, Environment and Sustainability (IRES), applied together on a collaborative project. Joanne Fitzgibbons, Dana Johnson and Daniel Forrest are working together on a project "Co-constructing a mutualistic city: Envisioning future scenarios to support people and nature in urban landscapes" with the City of Vancouver. While all three will work collaboratively, each will have a unique piece of the project represented in their final dissertation, including an interactive exhibit, illustrations and models of urban landscaping, and a final report on their collaboration with the city.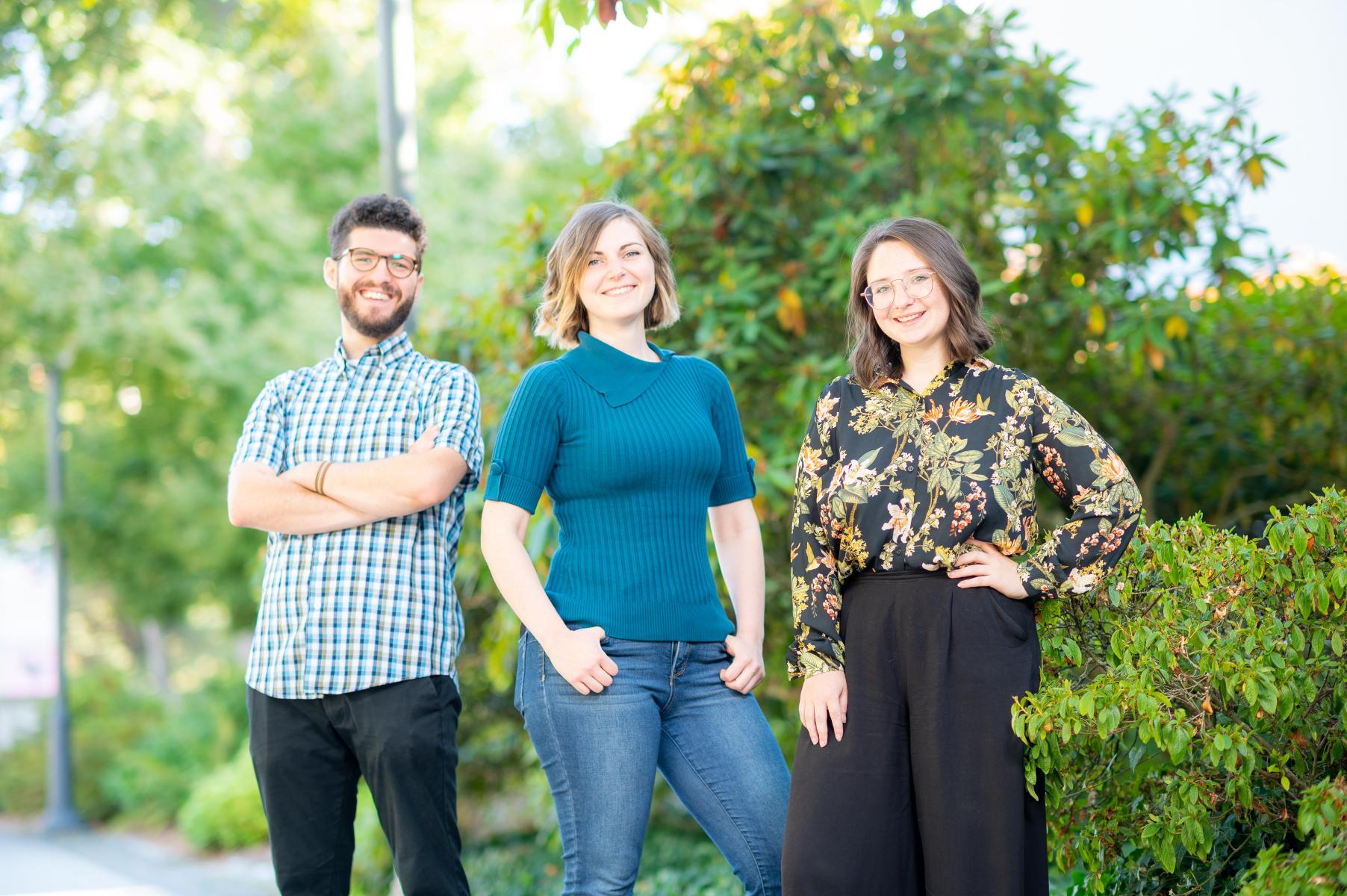 In addition to interdisciplinary and collaborative research, the PSI also introduced two new elements for the 2022/23 cohort. For the first time since its inception, seven PhD students from the Okanagan campus were added to the cohort.
Another new element this year is the introduction of a climate stream. Scholars in this climate stream are focusing their research on sustainability, climate justice, or environmental impacts of climate change. New scholar Annie Lalande is loooking at food waste in hospitals, while Steven Bristow is looking at irrigation. Ten of the new scholars are focused on climate research.
The scholars are from nearly every faculty and discipline, and showcase the breadth and depth of research at UBC. Congratulations to the new 2022/23 cohort! View their research profiles below.
More than 260 scholars have been accepted into the program during the past eight years, leading to collaborations with more than 150 different partners in 40 different countries. To learn more about how the PSI program reimagines the PhD, visit their website.
UBC Vancouver
Scholar
Faculty
Project
Tanzoom Ahmed
Arts
Understanding past and recent contributions of Muslims in Northeast India while questioning the present state-supported…
Khadija Anjum
Applied Science
Planning for food security of rural and urban daily wage workers in the context of food price shocks in Pakistan
Aram Bajakian
Arts
Navigating Nostalgias: Musical identities within the Armenian Diaspora
Fabiola Bazo
Arts
Feminist and Queer Interventions in Contemporary Urban Popular Music in Peru
Laura Brass
Education
Re-skilling, Up-skilling, and the DE-Valuing of Skill: Skilled Immigrant Women's Lived Experiences to Identity
Steven Bristow
Land and Food Systems
Precision irrigation under a changing climate: Preparing BC growers to monitor plant-water relations
Ace Chan
Medicine
Primary Prevention of Cancer-Causing Substance Use in Gender Minority People in Canada
Zitao Chen
Applied Science
Towards reliable, secure and private machine learning
Cheyanne Connell
Arts
Naachin of Past and Present: Traditional Performativity and Indigenous Identity-Making
Alysha Lynn Deslippe
Land and Food Systems
Eating in a Gendered World (EatGen)
Olivia Dreisinger
Arts
Diagnosis Grad School: A Podcast Series
Science
Co-constructing a mutualistic city: Envisioning future scenarios to support people and nature in urban landscapes
Leilani Forby
Arts
Getting to know you: the frequency, intentionality, and content of mind wandering in autistic individuals
Erika Gavenus
Science
Examining Crown-imposed Fisheries Management Through a Lens of Food Justice
Taees Gheirati
Arts
Music of the Women of Eastern Khorasan
Trevor Goodyear
Applied Science
Out on the street: A Community-based study with homeless 2SLGBTQ+ youth who use drugs
Sammy (Cassandra) Iammarino
Applied Science
Complex systems and power: a mixed methods study of episodic overdose prevention services in healthcare settings
Kevin Kuchinski
Medicine
Using Genomic Sequencing of sediment specimens from wild bird habitats for avian influenza surveillance
Annie Lalande
Science
Food as a therapeutic intervention: hospital transformation to address patient health, experience, and planetary health
Sydney Lines
Arts
Romancing the Empire: Race, Ethnicity, and Nationalism in the Writings of Winnfred Eaton and Laura Goodman Salverson
Keisha Maloney
Applied Science
Navigating Transitions: Remaking the Planning Engagement Table with/by/for First Nations Peoples in Toronto
Kohle Merry
Medicine
Promoting Sustainable Telerehabilitation: Co-Development of a Novel Telerehabilitation System for Repetitive Strain Injuries
Younus Mushtaq Ahmed
Arts
Open Defecation: Caste, Infrastructure, and the politics of development in Urban Chennai, India
Erik Post
Arts
Projects of Life and Death: Extractivism, Climate Justice, and Decolonial Futures in the Sierra Norte de Puebla, Mexico
Tetiana Povshedna
Medicine
Healthy aging in women living with HIV: The relationship(s) between chronic/latent viral infections, inflammation, cellular aging, and comorbidities
Rachel Ramsden
Medicine
Participatory Planning with Young Children: A Mixed Methods Approach to Planning Outdoor Play Environments
Lisa Ritland
Medicine
Intersectoral and placed-based approaches to fostering equity in children's development
Parboti Roy
Arts
Violence against Indigenous Women in the Chittagong Hill Tracts, Bagladesh: the lived experiences of Adivasi women and their navigational mechanisms to address violence
Sarah-Louise Ruder
Science
Food Sovereignty, Data Justice, and the Politics of Novel Agri-Food Technologies in Canada
Anna R Santo
Science
Understanding values and pathways toward rewilding
Neha Suvindran
Applied Science
A Self-healing, Soft and Sustainable Bioelectronic Interface Electrode for Neurotheranostics using Multifunctional Electrospun Liquid Metal Threads (MELMET)
Shayda Swann
Medicine
Investigating the role of reproductive hormones in healthy aging for women living with HIV: A Community-collaborative cohort study
Romina Fernanda Tantalean Castaneda
Arts
 
Emily Tilton
Arts
Understanding Ignorance
Winy Vasquez Benavides
Forestry
Food Security in the Amazon: an Investigation of the Food Security and Nutrition of the Ashaninka Peoples Living Inside the Protected Forest San Matias-San Carlos
UBC OkanagaN
| | | |
| --- | --- | --- |
| Kaela Cranston | Faculty of Health and Social Development | Evaluating the digitalization of the Small Steps for Big Changes coach training |
| Emily Comeau | Irving K. Barber Faculty of Arts and Social Sciences | Tlingit Language and Land App |
| Emily Giroux | Health and Social Development | Understanding and Optimizing the Role of Spinal Cord Injury Community-Based Organizations in Research Partnerships |
| Kaushal Raj Gnyawali | Faculty of Applied Science | Debris flow mitigation - adapting to climate change and wildfires |
| Ian Russell Parfitt | Irving K Barber Faculty of Science | Wildfire Resilience in a changing climate: advancing remote sensing, IoT and AI applications |
| Camille Xinmei Rousseau | Education | Pups Uplifting Public Speaking (PUPS) Competence: Co-creating a canine-assisted intervention for children with public speaking anxiety |
| Alanna Shwed | Health and Social Development | Transforming the Research System |
Thursday, 13 October 2022