This article was originally published on the UBC Climate Emergency website, interview by Fumika Noguchi, Engagement Project Assistant, UBC Climate Emergency Response team. Photos: UBC Brand and Marketing.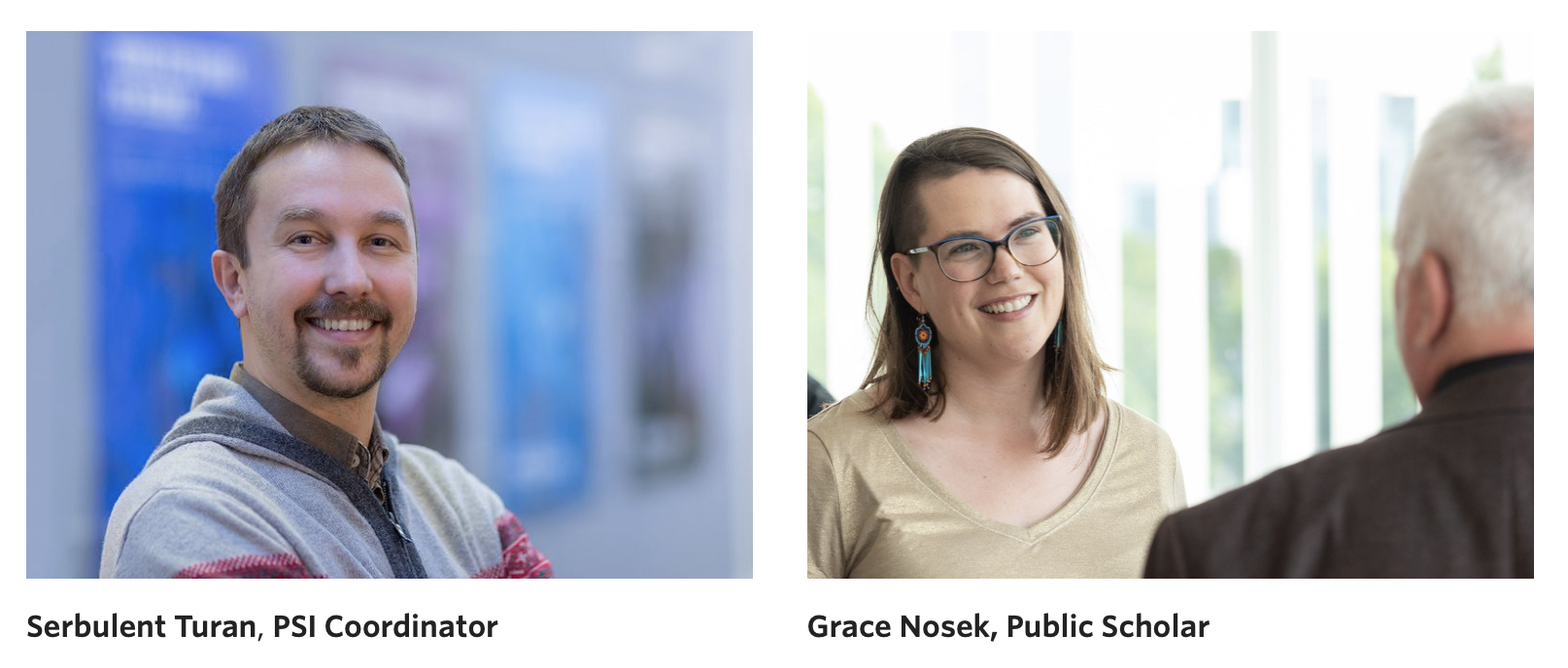 Public Scholars Initiative (PSI) is an award-winning program at UBC that is recognized for its excellence in supporting and promoting doctoral students in undertaking impactful research for the public good.  
Most recently, PSI received the Climate Emergency Fund (CEF) which they have put towards the implementation and expansion of scholars in the climate emergency stream.  
Learn more from PSI coordinator Serbulent Turan and current scholar Grace Nosek, who has published a hopeful climate fantasy trilogy. They discuss how the CEF has accelerated necessary climate work at UBC and the exciting plans for this new cohort of climate scholars.  
WHAT HAS BROUGHT YOU INTO THE CLIMATE SPACE? WHAT IS YOUR CLIMATE STORY? 
Serbulent: I cannot claim to be in the climate space. This is unfair to many who are there full time, whereas I have only tangentially passed and am passing through the climate space because I run the PSI. We are funding scholars that are doing climate work from many diverse programs because it is a global emergency. We applied to the CEF to support not only those students who are already doing climate work in the PSI, but to make room for more climate researchers because every year we have a limited budget. This is the professional exposure that has brought me into the climate space and to the CEF.  
WHAT ARE SOME OF THE CHALLENGES YOU HAVE FACED IN CLIMATE WORK, AND HOW, IF POSSIBLE, HAS THE CEF ALLOWED YOU TO OVERCOME THEM?  
Serbulent: What we are doing with the CEF is twofold. First, we open our doors to everybody who is reimagining the PhD in a few particular ways; we prioritize public impact, but also redefining what a PhD is and finding the boundaries of someone's discipline. We want to support more climate researchers and increase their numbers to spread their knowledge and build interdisciplinary connections. We only have so many resources, so the CEF has allowed us to double the intake of climate researchers this year, as well as support our existing climate researchers even further.  
Second, is to put our PSI climate researchers in a larger network by having them present their work. PSI prioritizes public impact and engagement tremendously, so every year we have a PhD's Go Public event. This year we wanted to make our environment-focused event as big as possible so we have booked VanDusen Botanical Gardens for 300 people. We have reached out to several climate and sustainability groups at UBC, and will put on events together during that week which will end with a fantastic VanDusen event. We hope to attract the UBC community and tons of public to showcase UBC's work. The CEF has been unbelievably useful as we previously did not have the means to effectively do it and is one of the better things we have done as the PSI so far.
WHAT INSPIRED YOU TO INITIATE A NEW AND SPECIFIC STREAM OF RESEARCH ON THE CLIMATE EMERGENCY?  
Serbulent: We are trying to survive. It is beyond belief that we must fight and struggle to survive, and we have come to a point where almost every research is climate research. You can be researching the methodology of public opinion polling which would still be related to climate. There is nothing more urgent. Public scholars are doing unbelievable things that are saving lives and will save more lives. This is the most important issue and of course, we need to expand and do everything we can, and if it involves doubling the cohort of climate researchers then yes, we would love to do that and are grateful that we can. 
WHAT DO YOU HOPE TO ACCOMPLISH WITH THE NEW COHORT OF CLIMATE SCHOLARS IN THE FALL?  
Serbulent: Our goal for the new cohort is to immediately incorporate them and their own networks into existing climate research to come together and expand. We will also train them in public speaking because climate researchers, just like many other researchers, are fantastic with their research but are not always the best speakers. Improving their public speaking will make their research interesting and create hope and agency.  
Another thing is to support their work not just academically but to also help showcase their work and connect with other networks and ideas. For this group of climate scholars, I genuinely hope that they will form their own smaller cohort and start being active. Sometimes scholars do that independently, and they may bond over shared concerns which create bigger momentum. I am hoping that the climate researchers in the PSI will do this because we will have more funds to support them. Even if it is just a venue with snacks it seems to make a big difference.
WHAT DO YOU RECOMMEND STUDENTS TO CONSIDER WHEN ENTERING CLIMATE ACTION WORK? 
Grace: Really think about what brings you joy, what you can do, and the skills you want to learn. Think about this as an opportunity and not just a sacrifice. I believe that climate action is a way to meet some of the most empathic people in the world and build community with them. We are all feeling anxious and searching for meaning, and in that moment of scarcity, climate action can seem like just another thing or a sacrifice that you must make. But for me, climate work is the most meaningful, joyful, generative thing of my life. It has brought me my community, allowed me to try out storytelling skills, collaborate with incredible, creative folks, and support frontline defenders, the people who I really think are the moral heroes of our time. 
WHAT MOTIVATES YOU TO KEEP MOVING FORWARD AND ACCELERATING CLIMATE WORK WITH THE UBC COMMUNITY AND BEYOND? 
Grace: What motivates me and keeps me going are the young folks that I work with. I have been able to give honoraria to young artists to work on the Rootbound project with me thanks to the Climate Emergency Fund. Seeing how excited they are to be given the chance to lead, make art, and tell their climate stories, particularly when young people have been raised in the shadow of this 'doomism' narrative, motivates me. Giving youth the power to be collective storytellers, literally rewriting our climate story, and seeing how that makes them feel excited and want to bring in more of their friends is amazing. How could I not keep going? 
Check out Grace's website to find out more about her research and climate fantasy novels!
Thursday, 13 October 2022