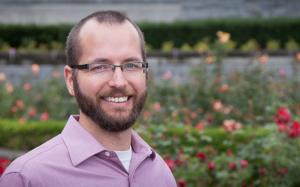 Our warm congratulations to G+PS staff member Brendan Morey on receiving the 2015 President's Service Award for Excellence.
This is the top UBC award presented to a staff member in recognition of excellence in their area of work and contributions to UBC.
Brendan has been with UBC for 14 years and is currently, Director, Graduate Awards and Development of G&PS. In this role, Brendan is responsible for strategic planning and program development for the UBC graduate scholarship programs. He is responsible for financial oversight of the graduate awards programs, including complex, multi-year forecasting and funding allocation formulae. He is the primary liaison with federal and provincial funding agencies, counterparts at other universities, and senior academic and administrative staff at UBC. Brendan leads his team in coordinating the review of almost 1200 internal and external graduate student scholarship applications across 20 plus scholarship competitions involving more than 100 faculty adjudicators. His awards team oversees award disbursements totaling approximately $55 million per year for more than 10,000 graduate students.
His response to receiving the honour is typically modest and gracious. "I'm very grateful to everyone who supported my nomination, particularly as many of them are at least as deserving of this award. I've had the privilege of working on interesting projects with many fantastic colleagues, and so it has been no great struggle to come to campus each day and put energy and care into our team's work. I've found that UBC - with both its aspirations and foibles - to be a fascinating place to work, and I'm grateful for the opportunities I've had here."
Trying to choose what comments to share with you from among the many, many wonderful kudos compiled as part of the nomination package for Brendan's award was a tremendously difficult challenge. But this excerpt from the letter of support penned by Susan Porter, Dean and Vice-Provost, Graduate and Postdoctoral Studies does speak beautifully to the breadth of Brendan's excellence in support of UBC, graduate studies and the larger community.  Here it serves as only one example of the dozens of accolades, compliments and gratitude expressed by colleagues within UBC and from granting agencies and university colleagues across Canada.
"It is clear that Brendan meets and exceeds the criteria for President's Service Award of excellence in the quality of his work, his contributions to improved services, his work over and above his job description, and his outstanding contributions to the graduate community at UBC and beyond.  He has also been a key contributor to important initiatives and programs at UBC more generally, such as the development of the new student management system for student funding.  His good citizenship is exemplified not only in his daily work, but the fact that he offers his time and skills in a number of volunteer activities beyond UBC, that he signed on as a first aid attendant for our office, that he is the ever-accessible 'go-to' person for wise advice and assistance (on many issues), and is a wonderful role model for sustainability with his daily commute by bicycle from East Vancouver." Susan Porter, Dean and Vice-Provost, Graduate and Postdoctoral Studies
Wednesday, 07 October 2015