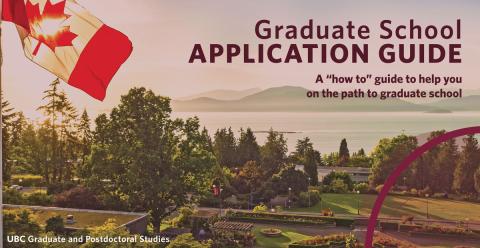 UBC's Graduate and Postdoctoral Studies (G+PS) office is pleased to announce the publication of a new guide aimed at helping prospective graduate students strengthen their applications. With more than 28,000 students submitting applications per year, UBC's graduate programs are becoming more popular every year. 
The "Graduate School Application Guide" is styled as a how-to guide for applicants, with sections on considering programs, financial concerns, writing statements of interest, requesting references, arranging for interviews and more.  
"For many prospective students, especially those not familiar with the nuances of graduate school, the grad school application can appear complex and daunting. The aim of this guide is to demystify the process and provide some practical advice for each step of the application," says Shane Moore, G+PS Marketing and Recruitment Manager.  
"We are aiming to explain the intricacies of the application, promoting a more equitable process for all those applying to grad school. The guide reflects the advice and guidance we have been providing in our online sessions." 
G+PS offers more than 35 online information sessions for prospective students per year, with some faculty and current graduate students attending. The Application Guide is the culmination of input received from executive leadership, staff and Graduate Student Ambassadors over the past several years.  
The guide is now available on the G+PS website for download.