New UBC PhD heads to postdoctoral work at the edge of the arctic circle.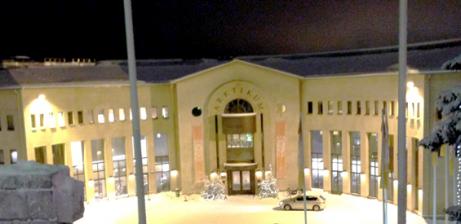 Written by Elizabeth Wallace. Photo of the University of Lapland courtesy Oliver Belcher.
Even from as far away as Lapland, UBC inspires. In fact, according to Oliver Belcher who will receive his doctoral degree in May 2013, "There is no better setting to conduct graduate studies than Vancouver, and the UBC geography department generally attracts smart, charismatic and careful young scholars."
Dr. Belcher's PhD research focussed on US and Canadian counter-insurgency warfare in Afghanistan.  He analyzed the influences that result in corrupt police forces, villages that are razed to the ground and displaced populations. Having earned a Master's degree at the University of Kentucky, Dr. Belcher chose UBC for his PhD studies.  He credits his advisor, Dr. Derek Gregory, for success in completing his program, explaining "he has a real gift of making his advisees feel the importance of their respective projects."
Newly appointed to the position of Postdoctoral Researcher, Biopolitics of Sustainable Development in the Barents Region Project  at  the Arctic Center of the University of Lapland, he is now focusing on the relation between climate change and security. Dr. Belcher has taken time to think about the changing nature of the PhD, and he points out that there is now more pressure on students to publish while they are still conducting doctoral research, in order to be able to complete for the smaller number of academic positions available.  His concerns are that there is less time available for "the pursuit of deep knowledge, in the traditional sense of the university, which is having detrimental effects both on education in general and the quality of research in particular."
On the question of whether a PhD has become just a job qualification, Dr. Belcher is convinced that doctoral studies are much more than that. He agrees with the position of Robert Maynard Hutchins, a former dean of Yale Law School who authored The Great Conversation in 1952. Hutchins wrote:
"The purpose of education is to develop a good mind. Everybody should have equal access to the kind of education most likely to develop such a mind and should have it for as long as it takes to acquire enough intellectual excellence to fix once and for all the vision of the continuous need for more and more intellectual excellence."
Dr. Belcher believes universities should still be providing an environment where important questions can be asked and debated: What does it mean to live a good life? What does it mean to prepare for death? What kind of society do we want to be? How do we want to live?What kind of persons do we want to encourage?
Asked what advice he would give to new doctoral students, or those thinking about applying to UBC, Dr. Belcher comments that those who love learning for its own sake will find the greatest success and satisfaction, and that those who put personal advancement over scholarship are bound to be disappointed in the end. 
Would Dr. Belcher begin his own PhD program again, knowing what he knows now?  He states:  "Absolutely. To date, this has been the signature achievement of my life."
To learn more about Dr. Belcher's work see his PhD Thesis: The afterlives of counterinsurgency : postcolonialism, military social science, and Afghanistan 2006-2012
For more about graduate programs in UBC's Department of Geography.
---