UBC Postdoctoral fellows and research associates will be presenting at the 2nd  annual 3 Minute Postdoc Slam (3MPS)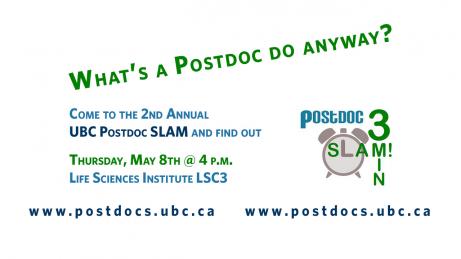 Members of the public and the UBC community are invited to attend!
3MPS is a university-wide friendly competition where competitors have 1 static slide and 3 minutes to explain the breadth and significance of their postdoctoral research to a non-specialist audience. Our event will be modeled after the UBC Grad Studies 3 Minute Thesis event, with a few adjustments. 3 Minute Thesis originated at the University of Queensland in 2008.
Here are the rules :
A single static PowerPoint slide is permitted. No slide transitions, animations or 'movement' of any description are allowed.
No additional electronic media (e.g. sound and video files) are permitted.
No additional props (e.g. laser pointers, costumes, musical instruments, laboratory equipment) are permitted.
Presentations are limited to 3 minutes maximum, strictly enforced.
Presentations may be in the form of spoken words, poems, raps or songs.
Winners will be eligible for cash prizes!
Location: 
Room LSC3 - Life Sciences Institute - 2350 Health Sciences Mall
Offered by: 
UBC Postdoc Assoication (PDA)
Date: 
Thursday, May 8, 2014 - 4:00pm - 6:00pm  
Please arrive on time - a reception to follow.
Information for participants can be found in the Postdocs section of this website.