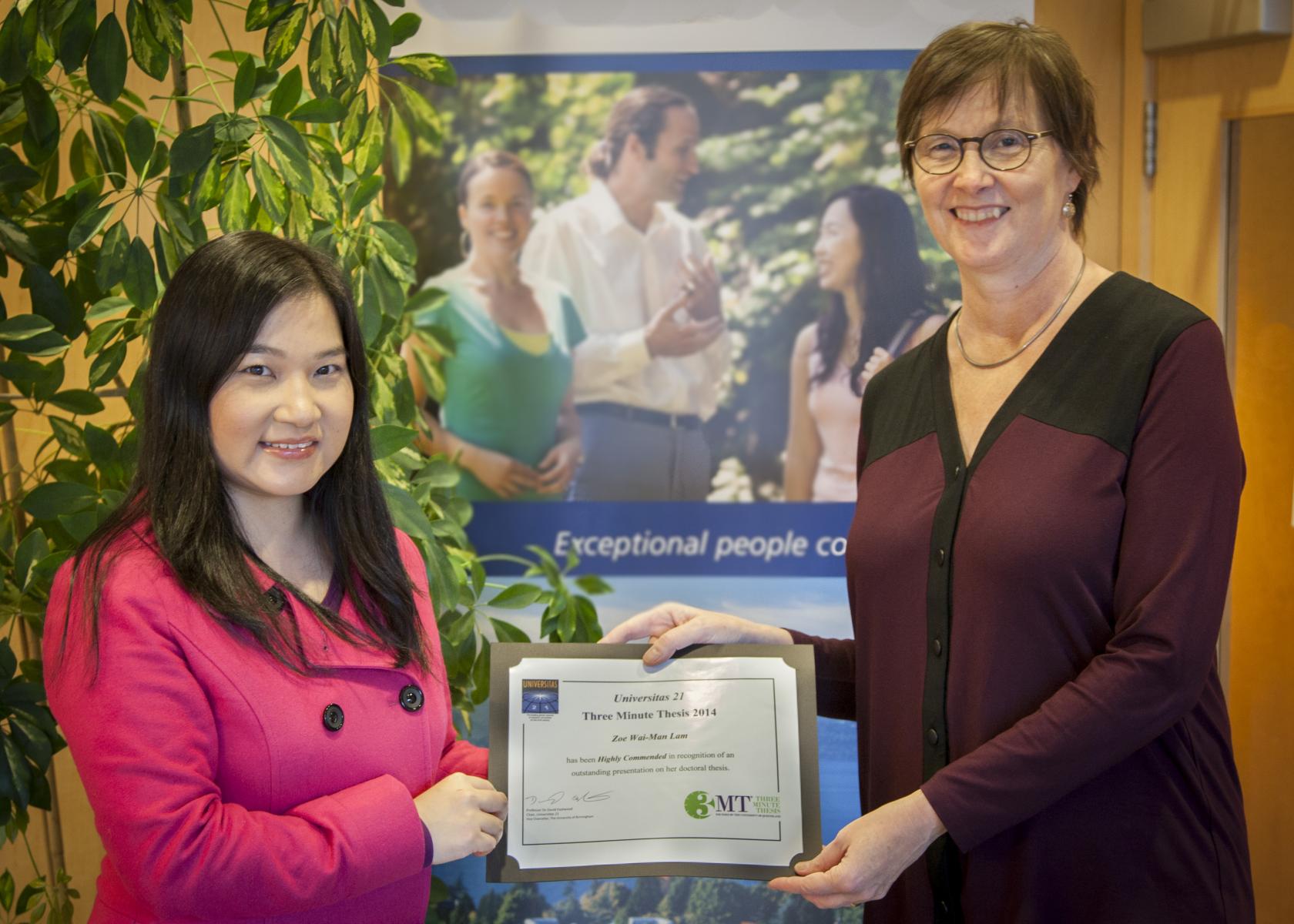 UBC's Dean and Vice-Provost, Graduate and Postdoctoral Studies is pictured here presenting Zoe with her U21 3MT award certificate.
Congratulations go out to UBC Linguistics PhD student Zoe Wai-Man Lam who has received the 2nd place Highly Commended award from the judging panel in the third annual Universitas 21 Three Minute Thesis (3MT) Global Final.
 "We're thrilled that Zoe placed 2nd in the U21 competition, and delighted she so well represented UBC to the global community. The 3MT experience is a wonderful way for students to gain experience informing and engaging broader audiences, and bringing to light the important work being done by our graduate students.  Congratulations Zoe!" – Dr. Susan Porter, Dean and Vice-Provost, UBC Graduate and Postdoctoral Studies.
Earlier this year Zoe was awarded top prize in UBC's annual event. Her winning presentation – Perception of Lexical Tones by Heritage Speakers of Cantonese – which articulates the scope and purpose of her PhD thesis work in only three minutes, was captured on video for entry into the third virtual global 3MT Grand Final. Zoe is a PhD candidate working on her thesis under the supervision Dr. Kathleen Currie Hall and Prof. Douglas Pulleyblank.
The judges made special note of the excellence of Zoe's slide and its use within her presentation, prompting the U21 organizers to request Zoe's permission to include her slide in training materials for future competition preparation.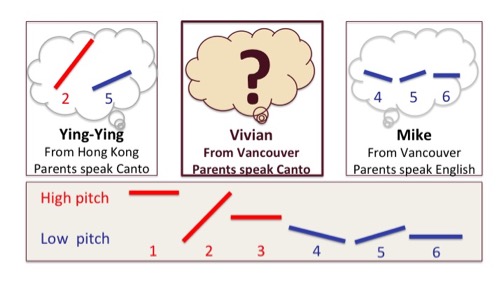 Zoe had this to share about the 3MT experience. "What I love about 3MT is its power to break stereotypes---images of the ivory tower, graduate students staying in their own bubble, or journal papers that the rest of the world will never read. I feel honoured to have played a part to bring a change and make a difference. I would like to thank everyone who gave me constructive feedback during the process, including colleagues in my home department, UBC staff, friends from UBC St John's College, as well as family and friends from Hong Kong."
Organized by Universitas 21 (U21), a global organization of research-intensive universities, entry to this competition is by invitation only to winners of 3MT events held this past year at a number of member universities around the globe. Adhering to strict format guidelines, the videos featuring top graduate researchers from 20 U21 universities were judged according to 3MT guidelines by a panel of communicators and academics selected from member universities. Three awards are presented as part of the event, the first place Judges Award, the second place Highly Commended and the People's Choice award. The People's Choice award is selected by on-line voting.
Full results for the U21 3MT 2015 competition can be found on universitas21.com.
Mark your calendars for UBC's 3MT 2016! Semi-finals March 8, 2016 and Finals March 10, 2016. Information on preparing and participating at 3mt.grad.ubc.ca.
Contact:
UBC 3MT contact: Jacqui Brinkman, Manager, Graduate Pathways to Success Program
U21 3MT event contact: Jane Usherwood, Secretary General, Universitas 21
Tuesday, 03 November 2015