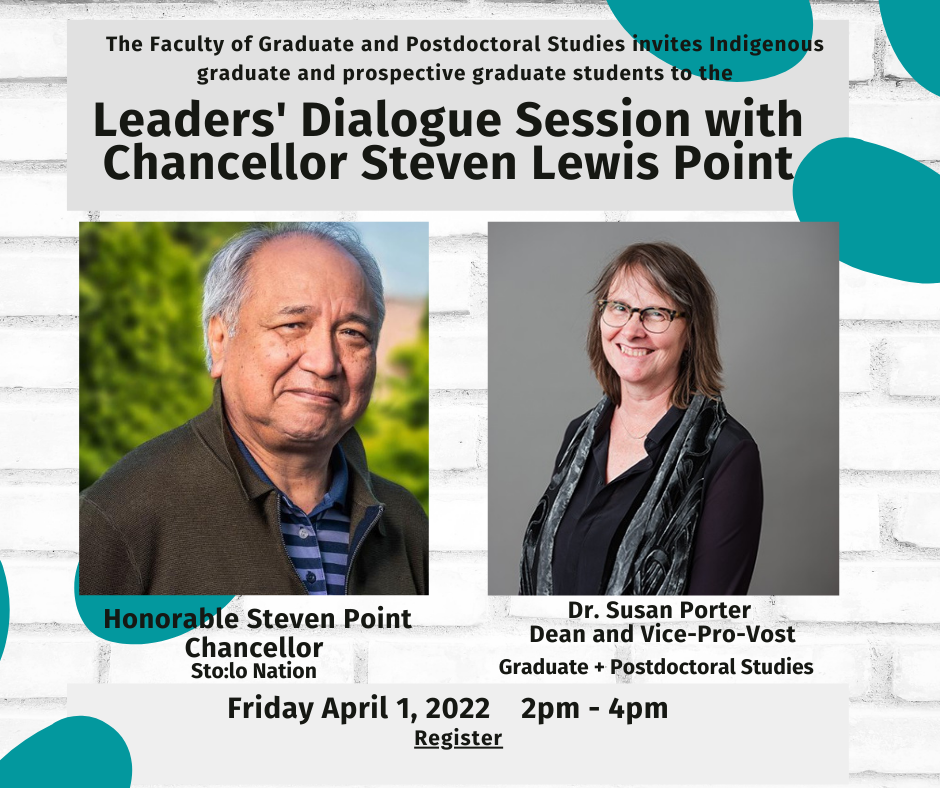 Please join us for a thought provoking and inspirational conversation with The Honourable Steven Lewis Point (xwĕ lī qwĕl tĕl), UBC Chancellor, hosted by Dr. Susan Porter, Dean and Vice-Provost of Graduate and Postdoctoral Studies (G+PS).
Chancellor Steven Point is from the Sto:lo Nation, member of the Skowkale First Nation and has advocated for Indigenous people throughout his career, pressing for greater recognition of their contributions and their fuller involvement in all aspects of life in British Columbia.
The gathering follows the G+PS Leaders' Dialogue series, exploring the hearts and minds of leaders in our midst who are making a difference for good in the world, hear their thoughts on questions such as 'What motivates you?', 'What does 'success' mean to you?', 'What are the important issues of our time, and how can they be addressed?' and 'What have you learned about leadership?'
Mr. Point has held numerous roles within UBC, in law, and in the community; he was appointed as the 28th Lieutenant Governor of British Columbia and has advocated for Indigenous Peoples rights throughout his career. He has served as the director of the First Nations Legal Studies program at the Peter A. Allard School of Law, worked at the Union of British Columbia Indian Chiefs, the Department of Employment & Immigration, served as a provincial court judge, and was the Chief Commissioner of the British Columbia Treaty Commission. He also chaired the advisory committee that worked to implement the recommendations from the Missing Women Commission of Inquiry.
Dr. Susan Porter is the Dean and Vice-Provost of Graduate and Postdoctoral Studies at UBC, and past President of the Canadian Association for Graduate Studies (CAGS). She is a Clinical Professor in Pathology and Laboratory Medicine. A strong focus throughout her administrative career has been the preparation of graduate students and postdoctoral fellows to thrive and to contribute meaningfully through their work after graduation or fellowship completion. Susan has been leading a "Reimagining the PhD" conversation and series of initiatives, most notably a multiple award-winning "experiment" (the Public Scholars Initiative) that is demonstrating the immense value and legitimacy of broadening doctoral research that fosters students' holistic development to better address today's urgent needs.
Leaders' Dialogue: A conversation with Chancellor Steven Point and Indigenous graduate students
Friday April 1, 2022 from 2 to 4pm
2nd Floor, Thea's Lounge, Thea Koerner House (6371 Crescent Road, Vancouver, BC V6T 1Z2)
Free event for Indigenous graduate students: registration required
Refreshments and snacks provided