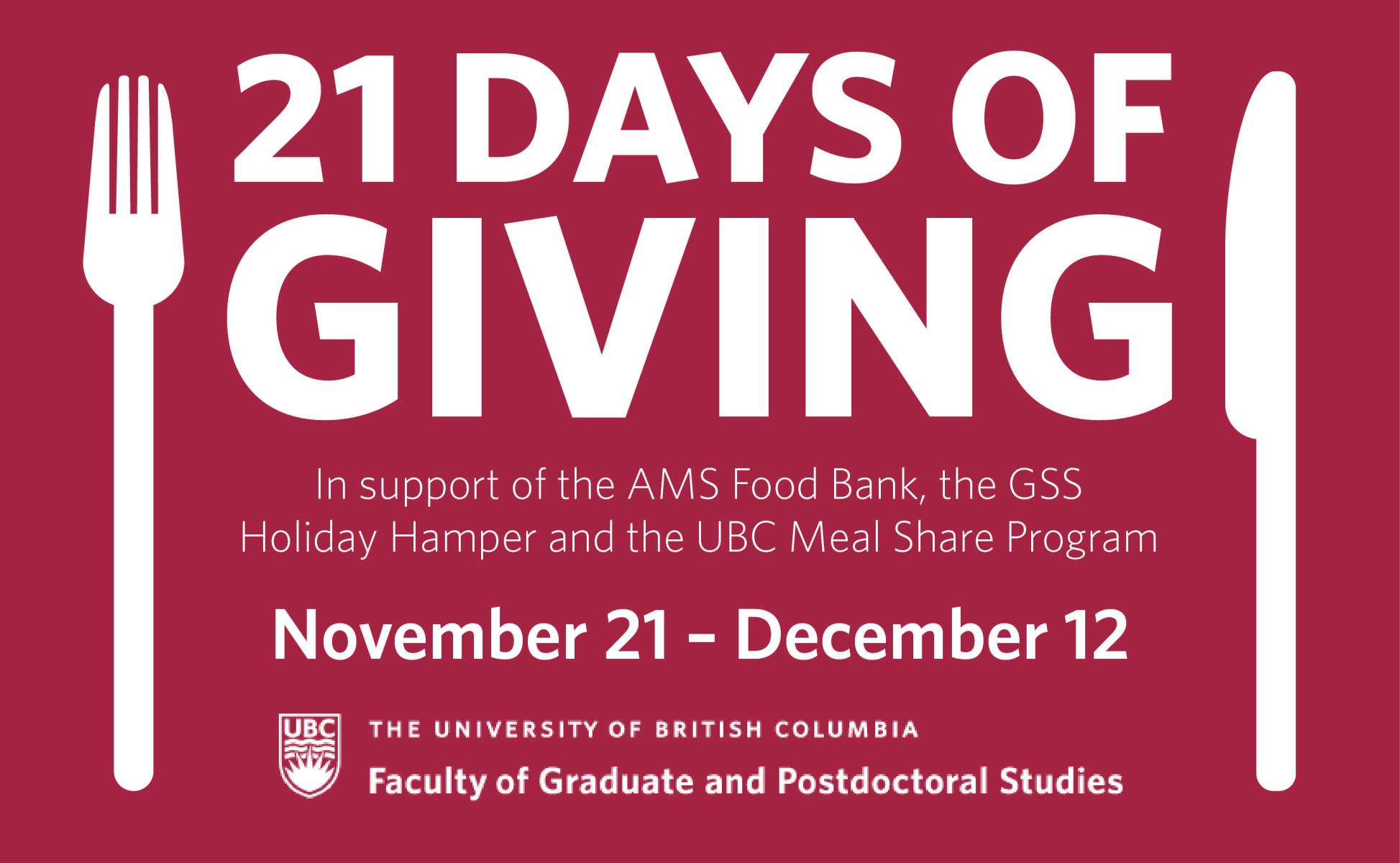 Since 2015, UBC Graduate and Postdoctoral Studies (G+PS) has supported giving back to the community with its annual 21 Days of Giving campaign.
This year from November 21 to December 12, G+PS is encouraging the UBC community to support initiatives that give back to students and the broader community.
Support the AMS Food Bank
The AMS Food Bank works tirelessly to reduce food insecurity and provide emergency food relief for students and it's been noted that graduate students are making use of the AMS Food Bank in record numbers.
Donate hard-earned money either by cheque or their GoFundMe page
Donate non-perishables like pasta and pasta sauce, canned meat (tuna, chicken, salmon), canned veggies, canned soup, baby products (diapers, formula, baby food), cereal, oats/oatmeal, granola bars, personal hygiene products, milk alternatives
Please do not donate opened, damaged, or expired items.
Give to the UBC Meal Share Program
The UBC Meal Share Program provides students experiencing financial barriers to accessing adequate food with discreet, non-repayable funds (UBCcard or electronic grocery store gift card) to access food up to once each academic term.
Last academic year more than 400 graduate students were supported.
Consider making a donation to support lower barrier and reduced stigma access to food through the Meal Share program.
Buy a button
The Faculty of Arts and G+PS have teamed up to over 40 different handmade designs for the 2022 UBC United Way Button Sale. By donating to United Way, you can pick from 40 different cute handmade designs that you can show off wherever you go.
Help out with a holiday hamper
This winter season, the GSS is spreading holiday cheer through holiday hampers to support current graduate students at UBC Vancouver who are struggling financially while undertaking their studies. Hampers can range in size and value depending on the student's needs.
Drop off some Holiday Hamper items such as:
Gingerbread House Kits, good quality chocolates, hot chocolate mix, apple cider mix, tea, microwaveable popcorn, candy canes, boxed cookies, family games: puzzles (250-500 pieces), UNO, playing cards, festive-themed cereal, festive marshmallows, colouring pencils, colouring books, holiday crackers.
Units and departments on campus can drop-off food items at Graduate and Postdoctoral Studies. For more information contact Graduate Communications.
Update: January 4, 2023
Thank you everyone who participated in the G+PS 21 Days of Giving campaign. Due in part to this support, the Graduate Student Society filled 78 holiday hampers for students. G+PS office staff contributed to more than five boxes of non-perishable donations for the AMS Food Bank. Alicia Walsh, a graduate student and coordinator of the AMS Food Bank, says that use of the Food Bank increased more than 30 percent at the end of the year. G+PS collaborated with campus partners once again to support the UBC United Way with another Button Sale. More than 300 buttons were ordered, contributing close to $400 to the campaign.
Thanks again to all who were able to support the campaign.