Beat the flu! Join the resistance. Get the flu shot.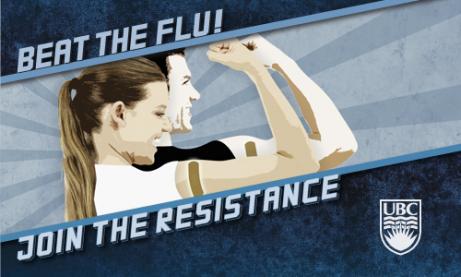 Influenza (flu) season is here and it's important to think about protecting yourself and those around you from the flu. Get your flu shot to ensure you stay healthy throughout the fall and winter months.
Reasons you should care about the flu
Getting sick can take you away from what's important to you. Most people who get the flu are sick for over a week. That's more than 7 days of potentially missing class, social functions, and even work.
Flu season begins when people start getting sick. This year, there are signs that the flu season could start early and could hit hard.
The flu is highly contagious and can spread quickly and easily from person-to-person.
Students are at a unique and increased risk due to close contact through living situations, classrooms, public transportation, parties, and sports. 
The flu is not the common cold and is nothing to sniff at. In fact, even healthy people get the flu.
Every year, over 12,000 Canadians are hospitalized and 3,500 die from the flu.
Nobody likes to be sick and snotty!
Do your part to stop the spread of germs. Get the flu shot.
The best way to avoid getting the flu is to get vaxed. It's safe and it works.
Free flu shots Nov. 4-27 across UBC Vancouver Campus
Getting vaccinated is easy. This November, UBC will offer free flu shots (while supplies last) to UBC students, faculty and staff.
Simply choose one of the many clinics across UBC Vancouver (Point Grey) Campus running from November 4-27 and register on the Risk Management Services website: riskmanagement.ubc.ca. Follow us on social media @UBC_RMS and look for updates with the #getvaxedUBC hashtag.
Medicine, Nursing, and Pharmaceutical Students Helping Students Stay Healthy
Inter-professional teams of medical, nursing and pharmacy students will administer the vaccinations at the free clinics under direct supervision of registered nurses and University health sciences faculty. The clinics will provide hands-on experience for these students to put their learning into practice, while also providing a valuable public health service to the larger UBC community.
Tuesday, 04 November 2014