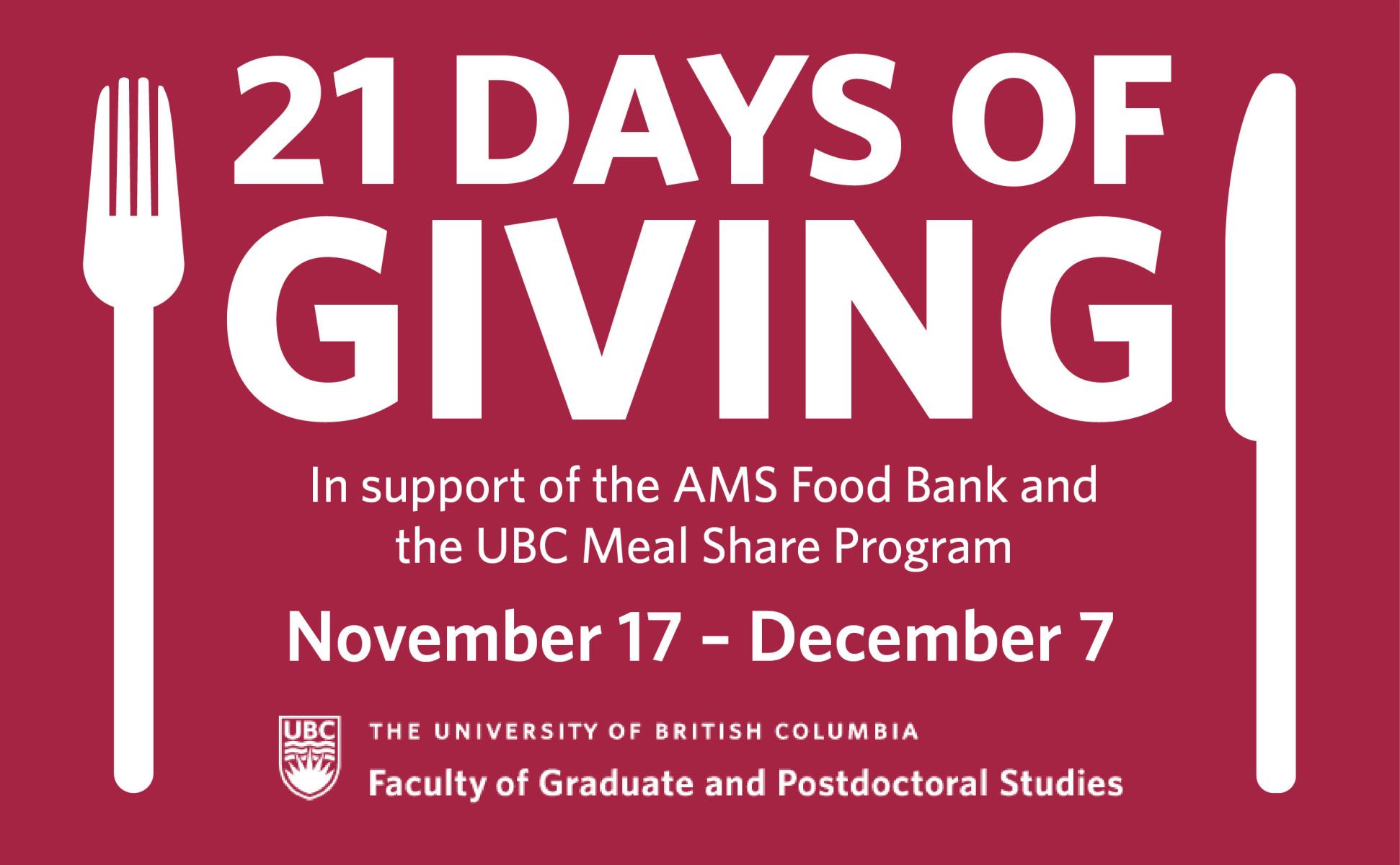 Graduate and Postdoctoral Studies (G+PS) is proud to announce we are beginning our seventh annual year of supporting the AMS Food Bank and graduate students who are food insecure with "21 Days of Giving."
The AMS Food Bank is an emergency food relief service for UBC students in need, which provides various perishable and non-perishable foods, personal hygiene supplies, budgeting tips and information on additional resources in and around Vancouver. They receive support from community donations, including goods and monetary donations. Graduate students needing to access the Food Bank can simply use their UBC ID to access food relief - up to 15 times per term. 
G+PS is encouraging the UBC community (faculty, students, staff, departments and units across UBC) to consider supporting graduate students in need by donating to the food bank, or to UBC's Meal Share program - details below.
Ways to support GRADUATE STUDENTS
Drop-off non-perishable items


At the G+PS Office between November 17 and December 7.
Non-perishable items can include:
Pasta and pasta sauce
Frozen food (such as frozen ready meals)
Canned meat (tuna, chicken, salmon)
Canned vegetables (peas, corn, mushrooms)
Canned soup
Baby products (diapers, formula, baby food)
Cereal
Oats/oatmeal
Granola bars
Personal hygiene products
Milk alternatives
Please refrain from donated opened/damaged food or dented/bulging cans. The G+PS office will arrange to drop-off the donations at the AMS Food Bank. 

Donate to the AMS Food Bank

Food donations or monetary donations, anytime.
Make a food donation directly to the AMS Food Bank: email fb.food@ams.ubc.ca to arrange a time for drop-off or visit during their open hours.
You may also make a monetary donation to the AMS Food Bank via Go Fund Me or cheque.

Support the UBC Meal Share Program

Subtext
UBC's Meal Share program provides a confidential way for eligible students to access funds to purchase food at select on campus outlets via their UBCcard. Students can self-identify and receive money on their student card or as a gift card. Members of the UBC community can support the program by donating money for students in need.
If you are a current UBC graduate student experiencing food insecurity, explore the UBC Food Hub to find resources, low-budget eateries on campus and other programs that can support you.
Saturday, 20 November 2021