In this issue of Advance, learn about upcoming initiatives to support racialized graduate students, recent appointments and winners of the 3MT competition.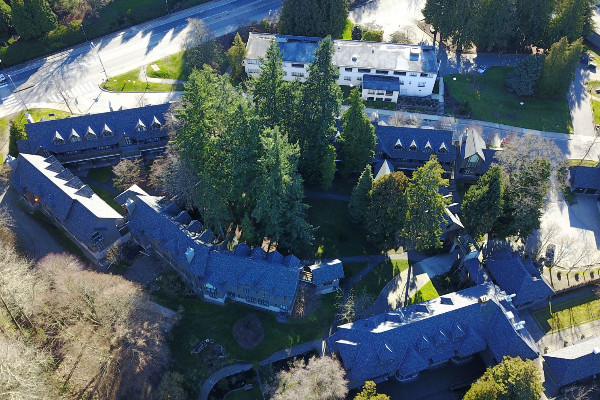 Search for Principal and Head of Programs, Green College UBC
Green College is a graduate residential college where interdisciplinary conversation thrives. The College seeks a tenured professor at UBC as its next Principal, to lead this unique intellectual community into its fourth decade.
The College (motto: "Ideas and Friendship") was born from the dream of a centre for advanced interdisciplinary scholarship at UBC. The heart of its mandate is to foster connections outside the traditional limits of academic discourse, opening different disciplines to each other, and the University to the wider local community and the world.
The College has accommodation for 84 graduate students and 16 postdoctoral researchers and visitors (academics, writers, artists, musicians, activists), and hosts public speaker series, panel discussions, conferences and artistic events. It has a reputation for promoting collaboration at UBC (e.g. through its Leading Scholars program for newly appointed faculty) and between UBC and other institutions worldwide (e.g. through the Cecil H. and Ida Green Visiting Professors program).
Reporting to the Dean and Vice-Provost, Graduate and Postdoctoral Studies, the Principal lives in a house next to the College and plays an active role in the day-to-day business of the College and University. The next Principal will possess outstanding interpersonal skills and be committed to working with Resident Members, UBC Faculty (and other non-resident) Members of Common Room, and Green College Society Members (former Resident Members of the College) to nurture an inclusive, collaborative and hospitable intellectual and social community.
The appointment, which will be for 60% of the appointee's UBC workload, is for five years, with possibility of renewal. Ideally, the new Principal will take up the position on or soon after July 1, 2023.
For more information about this opportunity and how to apply, visit the Graduate Studies website.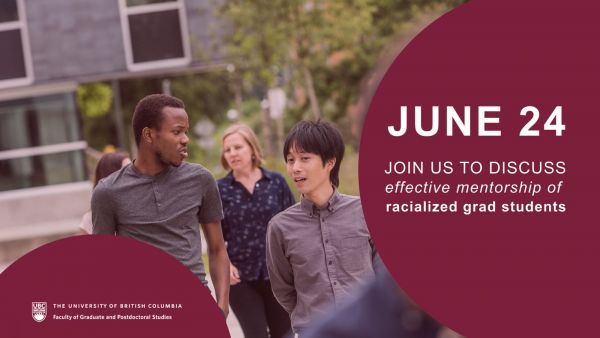 Mentoring racialized graduate students
On June 24, 2022, G+PS is hosting a forum at St. John's College that will address mentorship reflections from students and participating mentors, the value and current state of racial diversity in graduate school, as well as key challenges such as communication barriers, unconscious biases, and power differentials. The forum will include two keynote speakers, a panel discussion with graduate students and faculty members, and an opportunity for smaller group discussions and sharing.
The forum is part of a broader initiative for the Effective Mentorship of Racialized Graduate Students initiative (EMRGS). Learn more about this initiative and their goals on our website.

Joint graduate course wins Killam Connection competition
"Heavy Metal" is a new collaborative course, jointly sponsored by the School of Public Policy and Global Affairs, the Department of Earth, Ocean & Atmospheric Sciences, Peter A. Allard School of Law, and the Norman B. Keevil Institute of Mining Engineering.
The interdisciplinary course will examine the role of mining and mineral resources in the transition towards clean, renewable energy systems – and has received funding from the Killam Connection program, an initiative through UBC Graduate and Postdoctoral Studies The course was selected from among 21 proposals for an innovative and interdisciplinary graduate course in the 2021-22 competition.
Learn more about the course, planned topics, and the Killam Connection competition in the full announcement.
PDFO receives recognition in Canada's Top Employers for Young People
For the tenth consecutive year, UBC has been recognized as one of Canada's Top Employers for Young People in 2022. This special designation recognizes employers that offer the nation's best workplaces and programs for young people starting their careers.
The Postdoctoral Fellows Office (PDFO) is proud to have received special acknowledgement for the ninth consecutive year for the support, advocacy, and professional development opportunities they provide to UBC's postdoctoral community. In addition to the flagship Foundations of Career Planning Program, Postdoctoral Fellows Teaching Internship and the PDFO-SPARC Internal Review Program, in 2021 the PDFO introduced a six-week Summer Institute in Project Management designed to provide foundational knowledge in project management.
The PDFO continues to develop new programming for UBC's postdoc community – with plans to launch a Winter Institute in Project Management in the fall. The Winter Institute will provide participants with practical project management experience and the opportunity to create a team project utilizing the skills they have learned.
In addition to its formal programs and initiatives, the PDFO offers many other free professional development workshops on a wide range of topics covering academic growth; career building; leadership; personal development; and equity, diversity and inclusion, as well as information sessions and three annual orientation sessions per year for new postdocs.
Appointment of Associate Dean for Postdoctoral Fellows
Effective April 2022, Dr. Mary De Vera has been appointed as the Associate Dean, Postdoctoral Fellows.
Dr. De Vera is an Associate Professor in the Faculty of Pharmaceutical Sciences, and her current research is devoted to supporting and informing the journeys of those living with chronic disease. She also studies the epidemiology and outcomes of cancer.
Throughout her career, she has also been dedicated to mentoring the next generation of researchers and has led a number of initiatives to enhance the opportunities and environment for graduate students and postdocs in Pharmaceutical Sciences. She was awarded the Women's Health Research Institute Mentorship Award in Women's Health and the UBC Killam Award for Excellence in Mentoring (mid-career) in 2021.
Dr. De Vera will be working with the PDFO to support postdoctoral fellows across UBC, helping to ensure their time here is the most rewarding it can be.
"As someone who did one of two postdocs at UBC, I can speak to the outstanding research programs and opportunities," says Dr. De Vera. "It is these programs and opportunities that have allowed me to work and collaborate with exceptional researchers here at UBC and beyond. These collaborations along with the supports, resources, development opportunities (both professional and personal), and being a part of a community of 'thinkers' and 'doers', is truly everything needed to facilitate a holistic postdoctoral experience."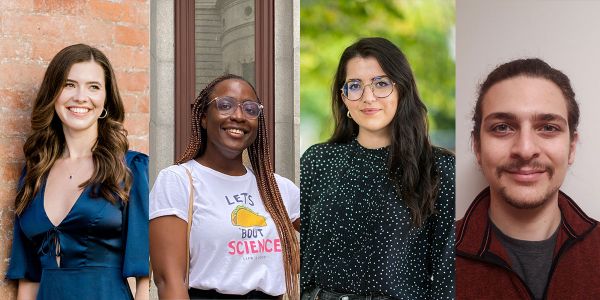 Winners of the Three Minute Thesis competition
Ten graduate students competed in the Three Minute Thesis (3MT) finals in March to find out who could best summarize and present years of research in only three minutes. Their research touched on topics such as lung cancer, human stem cells, sexual pain, honey bees and infant gut microbiomes.
First place and people's choice finalist Emilie Carpentier (Faculty of Science) presented her 4D modelling technique which can more accurately target radiation therapy in liver cancer patients. "I have really enjoyed my PhD and applying my physics background to health care by doing medical physics research," says Emilie. Her 4D modelling technique as discussed in her presentation has already been applied in real-life scenarios. "It is a really awesome feeling knowing that my 4D modelling has been applied in real life and is helping people."
First place (and People's Choice)
Emilie Carpentier, PhD in Physics, Liver cancer? No need to hold your breath for a cure! Supervisor: Dr. Tony Mestrovic
Second place finalist
Mopelola Akinlaja, PhD in Biochemistry and Molecular Biology, A peek into the honey bee gut: Understanding Nosema infection in honey bees. Supervisor: Prof. Leonard Foster
Third Place (tie)
Icíar Fernández Boyano, PhD in Genome Science and Technology, Making sense of preeclampsia where it begins: in the placenta. Supervisor: Dr. Wendy Robinson
Nicolas Pereyra, MSc in Biochemistry and Molecular Biology, Modified platelet storage devices to improve quality during storage. Supervisor: Dr. Dana Devine
Announcing the recipients of the 2021 Killam Postdoctoral Fellow Research Prize
The Postdoctoral Fellows Office is pleased to announce Dr. Hudson Reddon and Dr. Laura Schummers as the winners of the 2021 Killam Postdoctoral Fellow Research Prize. This year, both Killam PDF Research Prize recipients come from the Faculty of Medicine. 
The Killam Postdoctoral Fellow Research Prize is awarded annually for excellence in research, in memory of Izaak Walton Killam and his wife, Dorothy Johnston Killam, who together created the Killam Trusts. Two prizes in the amount of $5,000 each are awarded to full-time Postdoctoral Fellows at UBC in recognition of outstanding research and scholarly contributions while at UBC. Supervisors are encouraged to nominate outstanding postdocs for this prestigious prize.
The Killam PDF Research Prize is awarded through the Postdoctoral Fellows Office. Information about the 2022 competition will be available in the fall. Read the full announcement on the PDFO website.

Academic Integrity at UBC
UBC has recently launched a website for students and faculty to learn more about academic integrity and understand its role in research. The Academic Integrity website is meant to increase visibility and awareness of academic integrity and misconduct, and provide information for multiple stakeholders. The website offers resources for both prevention and response to academic integrity and misconduct issues.
Visit the site and provide feedback about questions you may have or ethics/integrity-related issues that may arise in your work.
Upcoming events and information