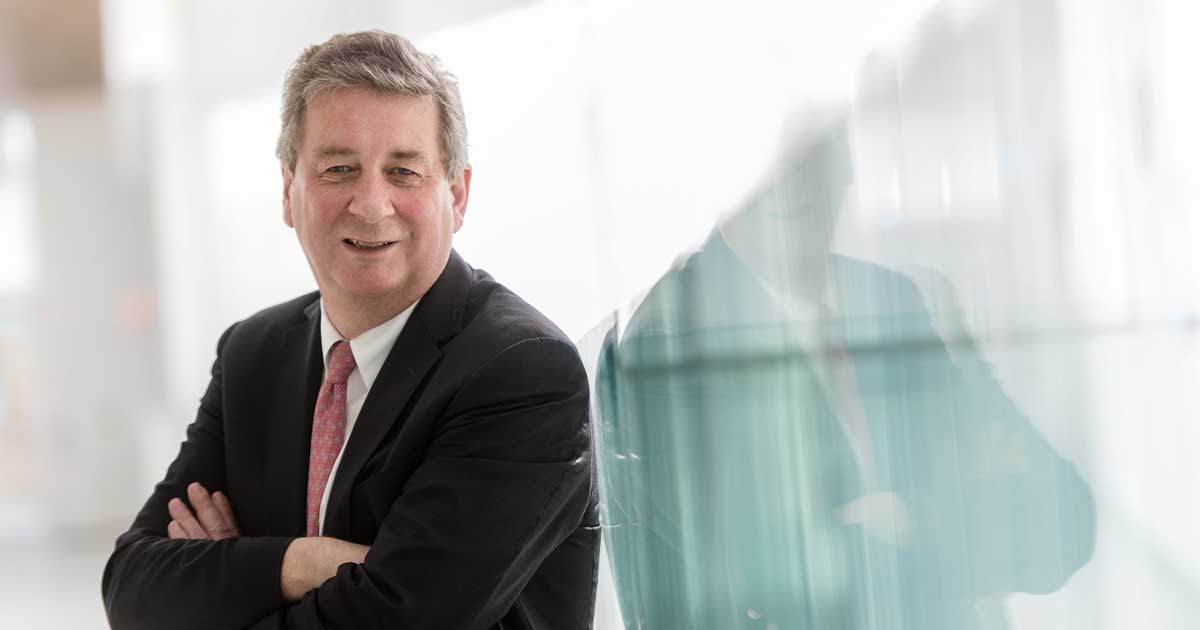 Dermot Kelleher, MD, FRCP, FRCPI, FMedSci, is the Dean of the Faculty of Medicine and Vice-President, Health, at the University of British Columbia. With a strong commitment to innovation and collaboration, Dr. Kelleher has worked to found several companies supporting both translational developments in biomedical science and fostering collaboration in biomedical research in both Dublin and London. He joined UBC in 2015 as Dean of the Faculty of Medicine. Prior to his appointment at UBC, Dr. Kelleher served as Vice-President Health and Dean of the Faculty of Medicine at Imperial College London, where he also held a concurrent appointment as Dean of the Lee Kong Chian Medical School in Singapore until 2014.
What inspired/inspires you to lead?
I'm very inspired by those who give generously of their time and energy in helping to develop the next generation.
For example, as a young doctor I had a great mentor in Professor Donald Weir at Trinity College, Dublin, who combined medical science with great leadership. By encouraging curiosity and questioning amongst his students, he helped to develop critical thinkers.
My mum was also a great influence on my life. During the war she spent time doing art therapy with wounded soldiers. She always displayed great patience and kindness — she was a true inspiration.
What makes UBC and your particular Faculty an exciting place for graduate students and postdoctoral fellows?
We are very fortunate to have a research environment here at the Faculty of Medicine that is world-leading for its depth and breadth in core areas of critical importance: genomics, cancer, brain and mental health, heart and lung health, pediatrics, women's health and infectious diseases.
The research centres and institutes in our Faculty enable graduate students and postdoctoral fellows to do transformative research that is having a real impact on the health of people and communities here in B.C. and around the world. This research is backed by significant investment from partners who believe in our work – $1.4B in the last four years alone – a contribution of great science and great impact.
What achievement related to graduate students or postdocs in your Faculty are you most proud of?
I am very proud of the Faculty of Medicine's role as the primary training provider of health and life sciences professionals in B.C. Our graduate students and postdocs have an integral role in bettering the health of people and communities in this province and around the world, as well as in building a vigorous life science economy here in B.C. They are making an impact in areas as diverse as HPV vaccination, cancer genomics, and health system research.
What do you consider a crucial next step in advancing graduate education at UBC?
There are several elements that are crucial to continuing the advancement of graduate education here at UBC.
In terms of what we're already doing, we want to continue to create an environment that encourages innovation amongst faculty leaders. We also want to continue to be a university of choice for learners from around the world, by promoting the quality and diversity of the research opportunities available here. And we are encouraging interdisciplinary research as expressed in UBC's strategic plan– two critical areas are the School of Biomedical Engineering and UBC Health.
You've recently taken on the role of Vice-President, Health. How do you envision that portfolio will affect graduate students and postdocs under your leadership?
With UBC Health, we have a new way of ensuring a sustainable approach to world-class health research, innovative education and patient-centred care.
My role as Vice-President, Health is to continue to nurture an interdisciplinary culture of innovation and entrepreneurship that encourages radical thinking amongst our graduate students and postdoctoral fellows. And most importantly to consider how we enhance health systems in B.C.
What are your priorities for graduate students and postdocs in your Faculty?
My first priority for graduate students and postdocs within the Faculty of Medicine is to continue to foster a supportive learning environment, where curiosity and bold thinking is rewarded and our learners feel empowered to pursue transformative research. Translation and data sciences will be key over the next decade and we have to be sure that we are ahead of the curve.
How do you envision your graduate student and postdoc alumni will contribute to society (or are contributing now)? How is their preparation helping them to do that?
The research being done at the UBC Faculty of Medicine is allowing us to deliver on our Vision: to transform health for everyone. The societal impact of our research is a real differentiator at UBC.
By making the discoveries that will be remembered for their transformative impact on health here and around the world, our graduate students and postdoctoral fellows are helping us to deliver on the Faculty of Medicine's contract with society, which places patients and the public at the centre of all that we do.
We also have the knowledge here to generate significant economic impact, including by creating a life science economy in B.C. Over 130 patents have been issued or filed for technologies that have originated from the Faculty.