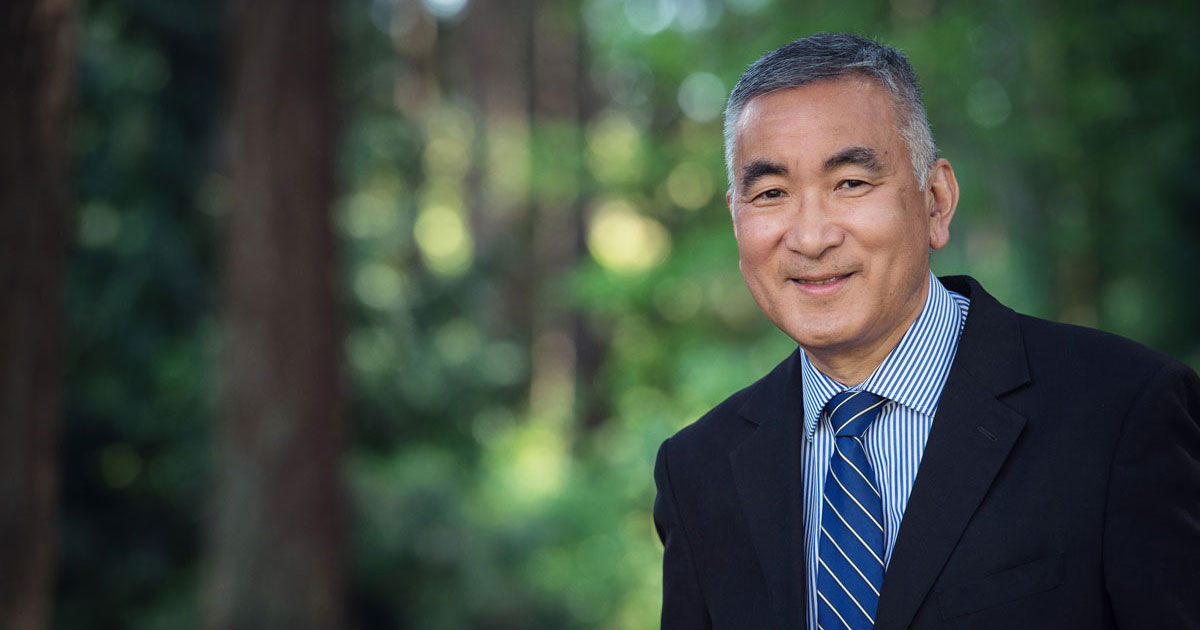 Rickey Yada, PhD, is dean of the Faculty of Land and Food Systems and a professor at the University of British Columbia. His current research interests include the structure-function relationships of food and non-food related enzymes using molecular biology and various physico-chemical techniques, carbohydrate metabolism in potatoes as it relates to process quality as well as various applications of food-related nanoscale science and technology.
What inspires you to lead?
What really excites me about positions like being the dean or taking on a leadership position is that I'm a bit of an adrenaline junkie when it comes to partnership building. That's what I like to do the best, and it comes through advice that I was given by a dean at University of Guelph, who was then my boss. He said, "Get to know your constituents." And in reflection, it's what I did when I was with the Networks of Centres of Excellence. It was all about bringing people together to work on projects. When I was interviewing here, the Provost at the time said, "Why do you want this position?" I said, "The whole opportunity to grow this Faculty," because I thought it was quite insular. When you have a limited budget, you think, "How can I grow the place in the absence of budget?" And that is through partnerships—partnerships with other faculties on campus. There were some really world-class people that we needed to connect with.
What makes the Faculty of Land and Food Systems an exciting place for graduate students and postdoctoral fellows?
When I arrived four years ago I was kind of bound and determined to develop a strategic plan for the Faculty—and maybe that comes from my father who had his own business. We set upon what I would call "the journey" to find out where we should focus our attention. We started with an environmental scan, approaching our alumni, employers, students, staff, and faculty. When we did that, it became apparent that there were a number of things that we had real strengths in—sustainable agriculture, food nutrition and health, and food safety and quality—these are issues that are top of mind for the public.
What achievement related to graduate students or postdoctoral fellows are you most proud of?
Most academics who take on students view them as part of their family. We're fortunate because some of our students have gone on to very prestigious positions with organizations such as the Food and Agriculture Organization of the United Nations, in Rome, or the World Bank, or they've gone off to other universities like Oxford or Cambridge. That's the thing that we are proud of, when you see your own go on and hope that we had a little part of their success.
What do you consider is most needed to further advance graduate or postdoctoral education at UBC?
Nowadays the traditional mode of graduate and postdoctoral training is that you're kind of anchored to a lab, but I think now there's a real effort to see the translation of research into applications. What I would say is a big movement, and it's a cultural change too, is to have graduate students and postdoctoral fellows embedded in an applications-oriented environment. That may be in industry, a non-governmental agency, or a government agency, where they're actually applying some of the research or knowledge that they've gained during their training into real-life situations. One of the most successful programs is the Mitacs program, which enables students to be placed in a situation where they really can bring cutting-edge research to an organization, but in turn they get to apply some of that knowledge in a practical setting.
What are your priorities for graduate students and postdoctoral fellows in your Faculty?
Like most faculties, it's the continuous journey of trying to get more scholarships and support for our students within the program. There are always more applicants than there are places. Oftentimes financial constraints inhibit us from bringing on more students. This is probably true of any faculty on campus. The other thing we need to do more work on is soft skills or professional development. Some students will go on to academic positions but academic positions are not as numerous as positions outside of academia. We need to have our students really be equipped with relevant skills. And even if they go into academia, they need exposure to more teaching environments and grant writing. I can reflect upon when I first went to the University of Guelph to an academic position. You're expected to teach as part of your duties but you really haven't had too much training.
How do you envision your graduate and postdoctoral alumni will contribute to society? How is their preparation helping them to do that?
One of the things we pride ourselves on as a faculty is the whole concept of experiential learning. I would argue that our students have that ability to do experiential learning and it's something that's embedded into the philosophy of our graduate program. You have to think, what is your role as a faculty? There's the obvious role of knowledge, of not only acquiring knowledge but generating knowledge. But then, that knowledge is just knowledge unless you can actually apply it to something. Can you translate what you do into a real-life situation, into some practical application? I would often talk to the incoming graduate students and say, "As you embark on your graduate degree, one of the biggest challenges that we have is how do you explain to a class of grade three students what you do as a researcher in language that they understand?" I think we try to stress in this faculty about being able to communicate what we do on the topical issues of sustainable agriculture, food security, food safety, etc.