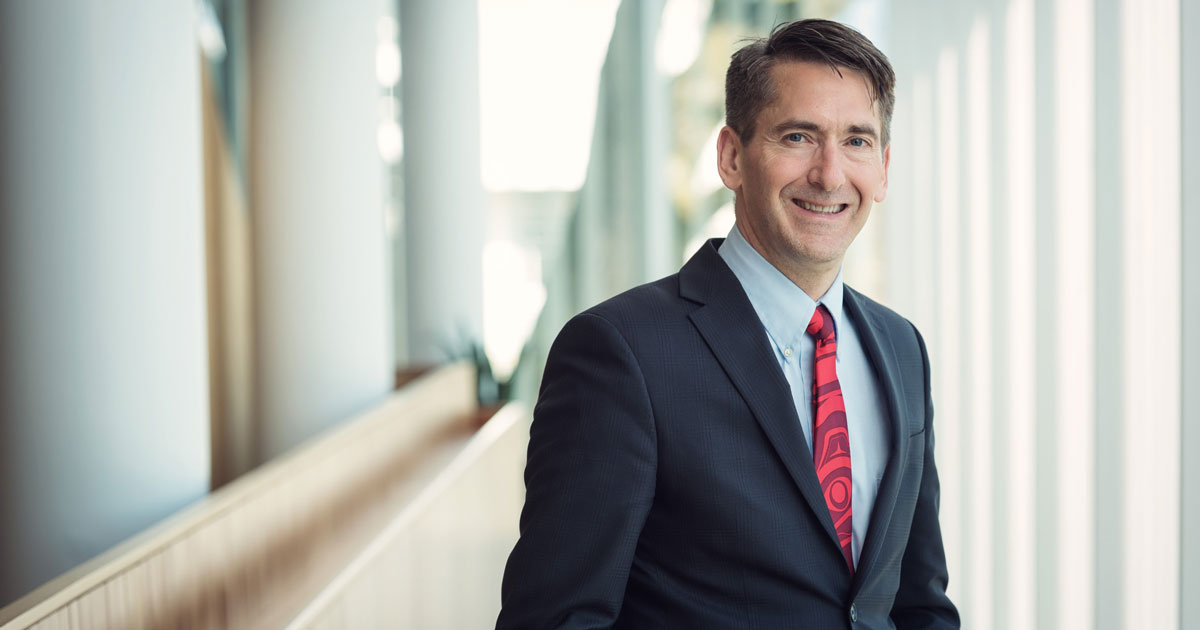 James Olson, PEng, is dean of the Faculty of Applied Science and a professor of mechanical engineering at the University of British Columbia. A former director of the Pulp and Paper Centre and interim director of the Institute for Computing, Information and Cognitive Systems at UBC, Olson was associate dean of research and industry partnerships at the Faculty of Applied Science from 2014 until his appointment as interim dean in June 2017. He began his five-year term as dean on March 1, 2018.
What inspires you to lead?
I have always been a leader in my professional life. I have led a successful research consortium—of 16 industry organizations as well as principal investigators and graduate students from three universities—that forms a globally unique innovation program for the benefit of the industrial sector. I was the director of the Pulp and Paper Centre for a while. I put together a large research cluster called the Bioproducts Institute, which has about 45 of UBC's researchers. As Dean, I have led a provincial initiative to increase the number of engineering students in the province which has resulted in 2900 new domestic seats. 
Out of all of this what inspires me is knowing that by bringing people together we are able to do so much more and be so much more successful than when we act separately. And that success needs someone not so much to lead but to create a focus that brings a community together to be more impactful as a community.
What makes the Faculty of Applied Science an exciting place for graduate students and postdoctoral fellows?
We have a unique collection of schools—planning, architecture, engineering, nursing—so the impact we make as professionals that serve society is tremendous. All of our graduate students are society-serving professionals. Nurses, planners, architects or engineers—they have tremendous opportunities to create the innovation of the future, whether it is innovative health policy or innovative smart cities and buildings. The professions that we represent have a significant impact on everybody's life every day.
What achievement related to graduate students or postdoctoral fellows are you most proud of?
Our graduate students are remarkable. They have literally built much of this province, from the cities we live in, to the industries we work in, to the health system we rely on. UBC's Faculty of Applied Science is one of the founding faculties of the university—because these were the disciplines needed to build a prosperous region. Our School of Nursing is the oldest of its kind in the British Empire and predates the Faculty of Medicine by 40 years.
If I had to nail it down to what's really impressive, I think that's the legacy of our Faculty. If you extrapolate that going forward, this is the Faculty that's going to be largely responsible for transforming the economy into the economy of the future and the environment into the environment of the future.
What do you consider is most needed to further advance graduate or postdoctoral education at UBC?
We only graduate about a quarter as many PhDs per capita in engineering as you'd find in Ontario, Quebec or Alberta. We need to grow the number of graduate students and postdoctoral fellows in British Columbia. That requires two things: funding and faculty.
You need to be able to increase funding in a way that we not only increase the number of PhDs per professors, but you also increase the number of professors.
Certainly, increasing the number of graduate students and improving the collaborative space for them to work would be high on my priorities. In fact, we are planning AppSci One, a building that would bring together the School of Community and Regional Planning, the School of Architecture and all Engineering departments into a single building. It would truly be innovative to be able to bring us all together into a state-of-the art, collaborative building around the planned, designed and engineered built environment.
What are your priorities for graduate students and postdoctoral fellows in your Faculty?
A huge focus is on recruitment and retention, bringing in the best and the brightest graduate students. Part of doing this is to increase the amount of donor funding and the amount of provincial funding that we can bring to bear. We want to enhance peer and faculty mentorship. We are also developing a professional development program for our graduate students, which would include things like writing skills, grants writing, and CVs for academic and industry positions. Many of our graduate students don't necessarily go off and become professors at universities. Many work in industry leading technical developments. So, to have those kinds of professional skills as well as research skills is really important for our Faculty. We're trying to develop that programmatic support.
What are some new initiatives from the Faculty of Applied Science?
We just launched our brand-new School of Biomedical Engineering. I know there's a lot of demand for biomedical engineering programs, so that's very exciting. We're going to develop a pillar around the interface of engineering and fundamental biology with our partners in medicine. It's going to be an extremely interesting and attractive area for new graduate students.
The other thing is we're developing a new program in Advanced Manufacturing Engineering, combining robotics, artificial intelligence and 3-D printing into one program. This initiative is a collaboration with UBC Okanagan and one of the highlight infrastructure projects is going to be the Learning Factory—a manufacturing, research, and teaching facility physically located on the UBC Okanagan campus that will integrate experiential learning. Students will not only have the lab, but they will also have the actual factory that they can gain experience in. In addition, there will be a digital twin to that factory, i.e. a large-scale simulation of how the whole thing works, from fundamental physics to the actual workflow moving through the factory.