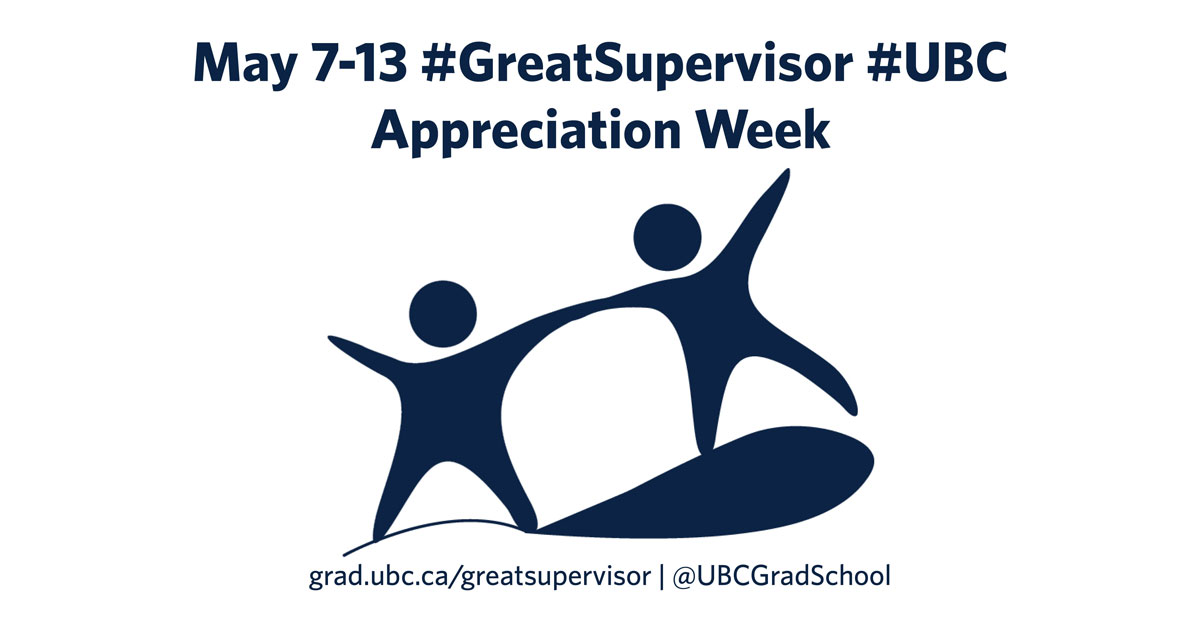 by Dr. Susan Porter, Dean and Vice-Provost, Graduate and Postdoctoral Studies
May 7-13, 2018, was the second annual Great Supervisor Week at UBC, when students were invited to give kudos to their graduate supervisors using #GreatSupervisor and #UBC on Twitter or Facebook. Faculty who pour their energy into thoughtful mentorship of their graduate students often don't get sufficiently acknowledged for their efforts, and this was a fun and public way to do that. It was truly heartwarming to read about the fabulous mentors in our midst—those who inspire, motivate, and encourage their students, and model what it means to be an exemplary researcher and person.
These are just a few of the ways our students feel their faculty are helping mentor them:
You push my thinking, always create a space where I feel heard, valued, and where I can try out my ideas. Thank you also for always providing balanced, thoughtful, and selfless advice.
She views our mistakes as opportunities to teach us something new.
I've learned compelling lessons about integrity and scholarship that matters
They not only inspire me intellectually, but also plant a seed of wonder in me, ignite the fire of my passions and keep them warm.
There's no comparison…for offering more honest feedback and support than any mentor I've ever had; for invariably believing that I *can* "sustain the part"—despite my silly misgivings and self-doubt!
Always provides critical yet gentle feedback & I want to be like her when I grow up.
So grateful for our great supervisor who is not only an exemplary scholar but also a role model human with his thoughtful kindness, humility, and patience.
He makes his supervision feel like a collaboration (as much as possible), the best way to make a student feel confident and prepare him for what lies ahead.
I thank her for…empowering me as a woman leader ready to face the world
Please take a look at the full page of kudos. We will follow up with a celebration for all these supervisors at an autumn reception.
A sincere thank you to all the students who shared their appreciation, and to all faculty who are effectively and generously nurturing the next generation of scholars.
#GreatSupervisor week started at the University of Calgary in 2014, and we are grateful to them for their inspiration and support in this initiative.