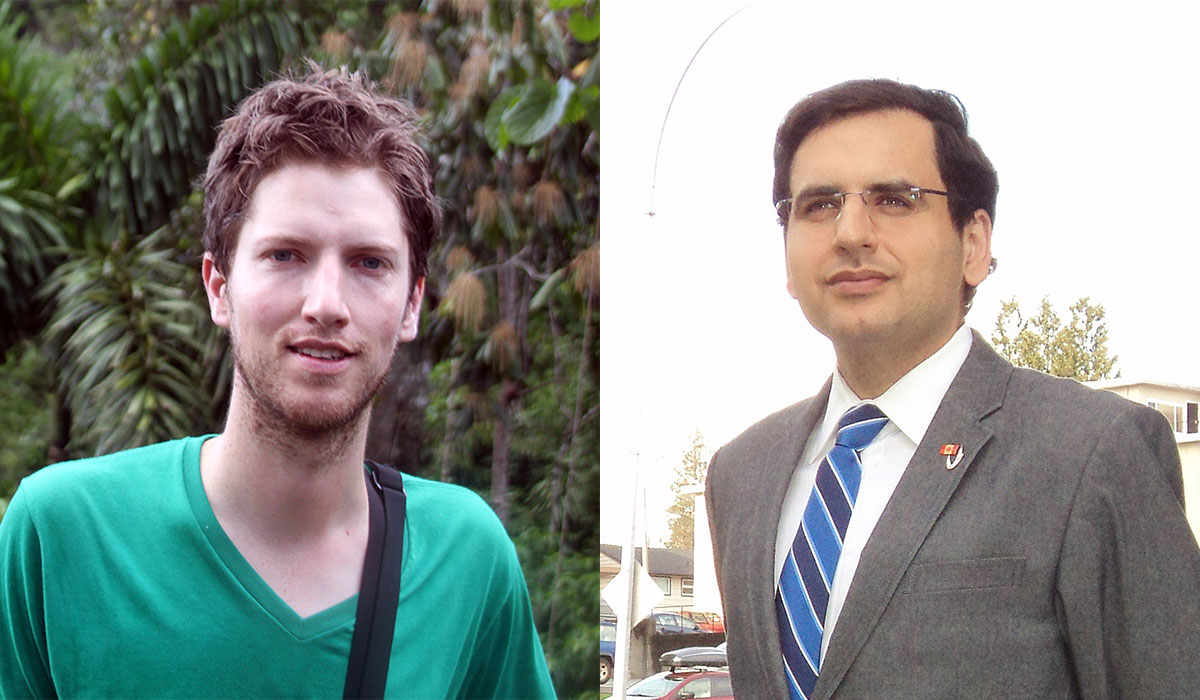 The Faculty of Graduate and Postdoctoral Studies congratulates Dr. Benjamin Freeman (left) and Dr. Ehsan Jozaghi, the 2017 recipients of the Killam Postdoctoral Fellow Research Prize. This prestigious prize, established in 2011 in memory of Izaak Walton Killam and his wife, Dorothy Johnston Killam, is awarded annually to two postdoctoral fellows in recognition of outstanding research and scholarly contributions during their UBC postdoctoral fellowships.
Dr. Benjamin Freeman
Dr. Benjamin Freeman, a Banting Postdoctoral Fellow in the Biodiversity Research Centre, uses natural history knowledge to explore both classical and cutting-edge issues in niche evolution, species interactions, and how species respond to climate change. His research focuses on three core questions in evolution, ecology, and conservation: What factors promote speciation? What limits species' geographic distributions? And how is global climate change impacting biodiversity?
A Washington native, Dr. Freeman came to UBC in March 2016 with the support of a National Science Foundation Postdoctoral Fellowship. He enjoys birding and soccer. In his spare time, he can be found exploring Vancouver's playgrounds with his toddler, and spends the occasional weekend at the local sewage ponds – a wonderful location for birding!
Learn more about Dr. Freeman and his work.
Dr. Ehsan Jozaghi
Dr. Ehsan Jozaghi is a Postdoctoral Fellow in the School of Population and Public Health, where he researches harm reduction and social networks of people who smoke illegal drugs; his research uses the first social network research conducted via a community-based participatory action methodology. The aim of his research, which is conducted in both Vancouver and Abbotsford, is to reduce the harm associated with the smoking of illegal drugs, especially for those who are at highest risk.
Originally from Iran, Dr. Jozaghi was awarded a CIHR Postdoctoral Fellowship in the summer of 2016, and decided to pursue his postdoctoral research at UBC in part due to the connections he forged through volunteering, research, and work with the Downtown Eastside community. He sees postdoctoral research as a time to acquire new knowledge and enhance previous research skills, and encourages new postdocs to not be afraid of trying new methodologies or research questions.
Learn more about Dr. Jozaghi and his work.
Awards and fellowship opportunities
The Killam Postdoctoral Fellow Prize is one of several awards and fellowships available through the Postdoctoral Fellows Office. Information about the 2018 Killam PDF Prize competition will be available on the PDFO website in late summer/early fall 2018: https://www.postdocs.ubc.ca/award/killam-postdoctoral-fellow-research-prize.
Other postdoctoral fellowship opportunities include:
The Banting Postdoctoral Fellowships Program: One of the most prestigious postdoctoral fellowships in Canada, the Banting Postdoctoral Fellowships Program offers seventy fellowships at $70,000 annually for two years. UBC has an Internal Banting Competition, which is expected to launch in early May 2018. Please view the PDFO website for application procedures and deadlines: https://www.postdocs.ubc.ca/award/banting-postdoctoral-fellowships-program
The Killam Postdoctoral Research Fellowships: Established in memory of Izaak Walton Killam through the Will of his wife, Dorothy Johnston Killam, and through gifts made during her lifetime, the Killam Postdoctoral Research Fellowship provides a $50,000 annual stipend for a maximum of two years, plus a travel research allowance of $4,000 over two years. The 2018 Killam Postdoctoral Research Fellowships competition is expected to launch in summer 2018. Please view the PDFO website for application procedures and deadlines: https://www.postdocs.ubc.ca/award/killam-postdoctoral-research-fellowship