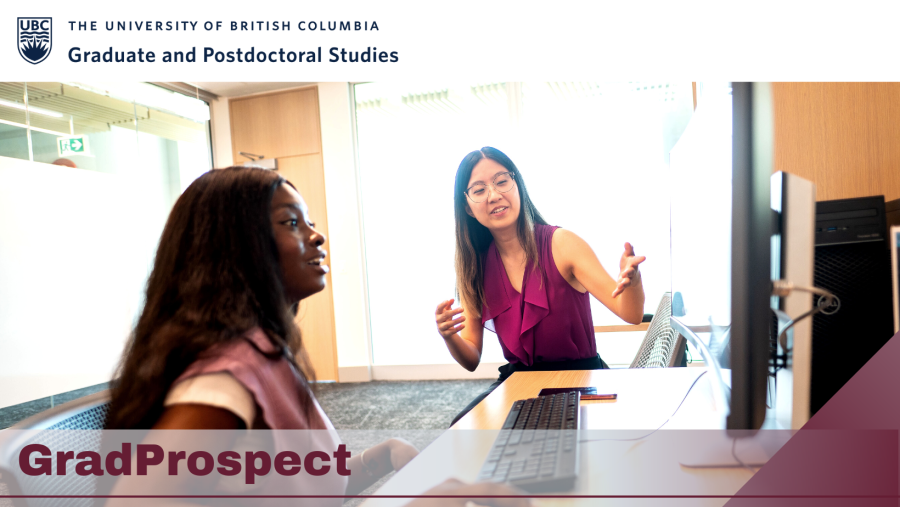 In the November issue of GradProspect, UBC's newsletter for prospective graduate students, we focus on an essential part of the application for many research-based programs: finding and reaching out to a potential supervisor and department. Our Ambassadors also provide advice on funding opportunities at UBC. Plus, we have eight online sessions happening in November for you to sign up for, including four faculty-focused sessions. 
Finding and reaching out to a potential supervisor
If you're applying to a research-based master's or doctoral program, you may have to identify a prospective supervisor prior to applying for admission. Finding and reaching out to a potential supervisor can be a challenging part of the application process and we often receive questions about this. Here we've compiled our advice and some resources to help you find and secure a supervisor.
Read our top tips for finding and reaching out to supervisors and watch advice below from Professor Michael Hunt and Professor Christoper Rea.
We're here to help – upcoming online info sessions
We have several applicant advice sessions in November where you can connect with current students, program staff and faculty online, and hear advice on making your application as strong as possible. 
Great grad school applications – November 16 at 5 pm and November 30 at 10 am
In each of these sessions, we'll break down the graduate school application at UBC. Explaining the process, key application elements and we provide some tips on strengthening your application

Compelling statements of interest – November 23 at 10 am
In this shorter 45-minute webinar, we take a closer look at the statement and provide advice on how to make yours as strong as possible.

Finding and reaching out to prospective supervisors and referees – November 25 at 10 am
For many research-based graduate programs, you'll need to find and secure a supervisor before submitting your application. In this webinar we take a close look at how to search for a supervisor and once you have found them how to reach out. We'll also discuss how to identify and approach referees.
Graduate education for the collective good 
The Graduate Student Society (GSS) of UBC recently released a six-part documentary called Graduate Education for the Collective Good. It draws attention to the critical role that graduate education and research play in Canada's socio-economic development, particularly with the rise of knowledge-driven industries. Watch part one below and check out the GSS website which details the work they do in representing and advocating on behalf of all UBC graduate students. 
Killam doctoral scholarships announced
Twenty-six UBC doctoral candidates have received a Killam Doctoral Scholarship for the 2022-2023 academic year. The recipients received their awards at a ceremony held in late October.
These awards are available to students in all disciplines, across both campuses. This year's winners represent nearly every faculty and discipline, researching topics from fire management to food systems. Read more.
Ask an ambassador 
Funding is often top of mind when planning graduate study. This month our ambassadors provide insight into some of the funding opportunities at UBC. 
Latest graduate community news
This month we learn how heavy metal could help the green transition. We celebrate the ten students and residents working in health who've received the Friedman Award and open a 100-year-old time capsule! Read more.
Faculty Info Sessions
Faculty of Forestry professional masters programs – November 17 at 10 am 
UBC Forestry's accelerated Professional Master's degrees offer the opportunity to deepen your technical skills, hone your leadership abilities and expand your professional networks - all in only 9 to 14 months. Led by world-renowned faculty members and experienced industry professionals, our programs are developed to give students the core foundation in rapidly developing fields – such as climate adaption, forest carbon management and geomatics - to advance in their careers. RSVP.
Professional programs info session from the Faculty of Land and Food Systems – November 18 at 10 am
Learn how your expertise and insights can make an impact on the world's most urgent issues around food safety, food security, resource use and shared environmental assets. LFS's five unique professional programs provide you with the essential workplace skills needed to address local and global challenges in food science, the responsible use of the earth's finite resources, food and resource economics, aquaculture, and nutrition. RSVP. 
Faculty of Science info session – November 30 at 10 am 
UBC's Faculty of Science is home to an array of outstanding scientists and students who strive to unravel the principles that underlie our universe – from the subatomic to the macroscopic, from pure mathematics to biotechnology, from ecosystems to galactic systems. In this session hosted by Professor Mark MacLachlan, Associate Dean of Research & Graduate Studies, we'll hear from faculty members and graduate students on some of the exciting research happening within the Faculty of Science. RSVP.
Faculty of Applied Science info session – December 2 at 10 am 
UBC's Faculty of Applied Science is celebrated for the scope, strength and impact of its research activities and graduate programs. In this online session faculty members and graduate students will be talking about the exciting research that's happening and what it's like to be a graduate student in Applied Science. There will also be an overview of programs, student life and how to apply.  RSVP. 
Equity, Diversity, and Inclusion at UBC Vancouver
Equity & Inclusion Office gives over $49K to support faculty and staff-led EDI projects
At UBC Vancouver the awarded projects aim to advance equity and inclusion across the university including in academic programs, student services, arts and culture, recruitment, program evaluation, and health and wellness. Each of the projects aim to enhance the experiences of students, faculty and staff at UBC – particularly those that identify as Indigenous, person of colour, have a disability, or that are part of the queer or trans communities.  Read more.  
Follow our step-by-step approach to applying
If you are applying to graduate school at UBC, be sure to familiarize yourself with the process. Our website is packed with useful application information. A great place to start is our Application & Admission page, where you will find key steps to take before and during your application. Also, be sure to download our Application Guide, which is packed with useful advice on putting together a grad school application.