Welcome to the May issue of GradProspect, the newsletter for prospective students on UBC's graduate programs. This month, we celebrate our Three Minute Thesis finalists and an award-winning UBC alum whose dissertation was considered the best in Canada. 
Plus we invite you to sign up for our upcoming applicant advice sessions, hear the latest news from across campus and much more!
Arts graduate student wins UBC's Three Minute Thesis competition 
Graduate students in thesis-based programs at UBC have the exciting opportunity to participate in the Three Minute Thesis (3MT) event: an academic competition that assists current graduate students with fostering effective communication skills. Participants have only three minutes to explain the breadth and significance of their research project to a non-specialist audience.
Last month, ten UBC graduate students took the stage in this year's UBC 3MT final. Their research touched on topics such as mental health and cancer, gene editing, water filtration and hydrogen fuel.
The judges agreed that all the presentations were impressive, but in the end, there could only be one finalist and that was Kiarah O'Kane, a UBC Arts graduate student in Psychology. 
As Kiarah is progressing to the Western Regional Competition we can't share her presentation just yet, but below you can watch presentations from 2nd and 3rd place finalists, Jonas Welsch and Fatemeh Asadi Zeidabadi. You can also read more about 3MT at UBC and watch all of the finalist presentations on our YouTube channel. The presentations provide great insight into research happening across UBC.
FIRST PLACE
Kiarah O'Kane MA in Psychology,
Do you mythunderstand me? Sexuality myths and sexual outcomes. 

SECOND PLACE
Jonas Welsch, PhD in Electrical and Computer Engineering. 
Listening to the crack – The art of keeping Hydrogen from escaping

THIRD PLACE
Fatemeh Asadi Zeidabadi, PhD in Chemical and Biological Engineering.
Silent Threat in Our Drinking Water: "PFAS or Forever Chemicals"
Upcoming applicant advice sessions
Connect with us online at one of our upcoming sessions taking place on Instagram, LinkedIn and Zoom.
Applying to grad school at UBC
May 17 at 10 AM (LinkedIn and Zoom)
In this session, we'll break down the graduate school application at UBC. Explain the process, key application elements and provide some tips on strengthening your application. Plus we'll answer your questions.  Sign up.
AMA finding and reaching out to prospective supervisors 
May 26 at 10 AM (Instagram)
For many research-based graduate programs you'll need to find and secure a supervisor before submitting your application. In this AMA we'll explain how you can search for a supervisor and how to reach out once you have found them. Join us on Instagram and have your questions answered. Sign up. 
Faculty advice
This month we hear from Professor Hadi Dowlatabadi from UBC's Faculty of Science who provides some practical tips for writing a statement of interest. His advice is focused more on this applying to research-based programs but is applicable to anyone applying to graduate school.  
UBC graduate wins distinguished dissertation award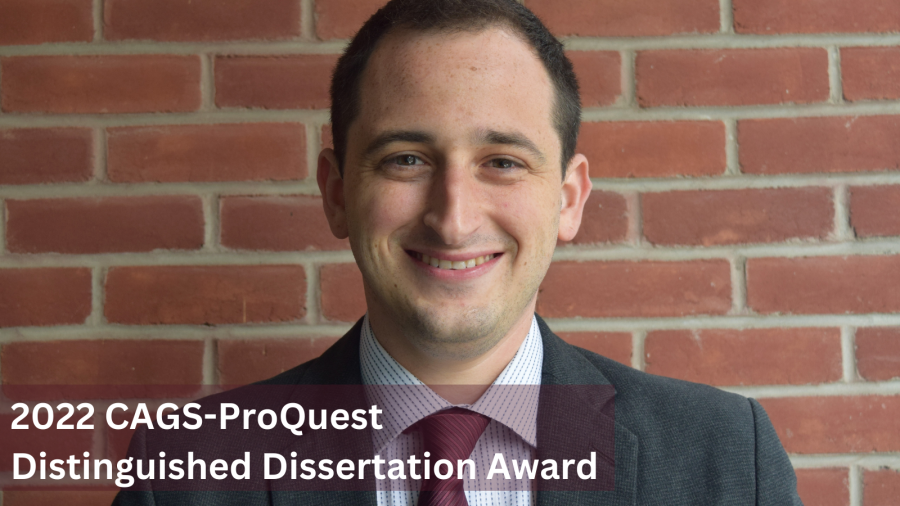 Congratulations to UBC alum, Dr. Zachary Witkower, who has received the 2022 Canadian Association for Graduate Studies Pro-Quest Distinguished Dissertation Award for his dissertation The action unit imposter: head position influences social perceptions by changing the appearance of the face.
His dissertation represents a significant breakthrough in understanding how nonverbal behaviour conveys complex social information. Bringing together sixteen mixed-method, multinational, and interdisciplinary studies, his dissertation research demonstrates that head movements influence how people evaluate each other by changing the appearance of the face. Read more about Dr. Witkower's research and award. 
Latest graduate community news
This month we hear about how a UBC-led team is transforming cancer treatment in Canada. We learn how prenatal education is being successfully delivered by text message and discover what ecospirituality is from grad student Matthew Billet.  Read more. 
Asian Heritage Month at UBC 
Asian Heritage Month is an opportunity to learn more about the many achievements and contributions of Canadians of Asian descent. Learn more about what's happening at UBC and in the community for Asian Heritage Month. 
Download our Graduate School Application Guide
Our 37-page guide works to demystify the graduate application process and provide some practical advice to help make your application as strong as possible, whichever program or university you're applying to.  
Research projects, programs, and supervisors recruiting students 
Visit our research projects page to review open research projects and faculty recruiting students. Below is a selection of projects and programs actively recruiting. 
MSc Position in Knowledge Translation
Applications open for UBC Master and Graduate Certificate in Global Surgical Care
MSc Positions in Pathology & Laboratory Medicine 
PhD Positions in Pathology & Laboratory Medicine 
PhD Position in Cardiovascular Metabolism and Diabetes
Graduate Student: Single-Molecule Biophysics
Graduate Student: Oligotherapeutics Imaging
Graduate Student: Single-Particle Imaging of Lipid Nanoparticles