Admission statistics and reports cover the application process from the preliminary entry of a students application, to the offer, and finally registration (acceptance of an offer, often referred to as the yield). Data is grouped into registration periods that span May through the following April. This includes the Summer session (May - August) and the following Winter session (September - April). Note, that the registration period is not the same as the UBC Academic year which runs September through August.
We currently have data from 1995 onwards. Finalized data for registration years 1995 - 2004 were extracted on Feb-14-2006, and finalized data for registration years 2005 onwards are extracted each March 1st. Each of the following reports includes data on Applications, Offers, and Registration numbers for the specified registration periods. The March extract is the final report completed for each registration period.
Table showing UBC-Vancouver Overall Masters and Doctoral Applications with Links to Excel Files for More Details
1995 to 2020 Admission Data by Registration Year (Excel 2019 format - 4,740 KB)
Over a 26 year cycle - 1995 to 2020 - Graduate Studies has had a 219.5% increase in applications. In 1995 there were 7,277 applications. By 2020 these numbers had increased to 23,253 applications. That represents a 5.2% average increase each year.
From an Offers perspective, there was a 107.2% increase in those same 26 years (a yearly average of 3.1%), going from 2,665 Offers made in 1995 to 5,521 Offers made in 2020.
The final piece, Registrations, saw an 127.0% increase in 26 years (a yearly average of 3.5%). There were 1,640 Registrations in 1995 and 3,723 Registrations in 2020.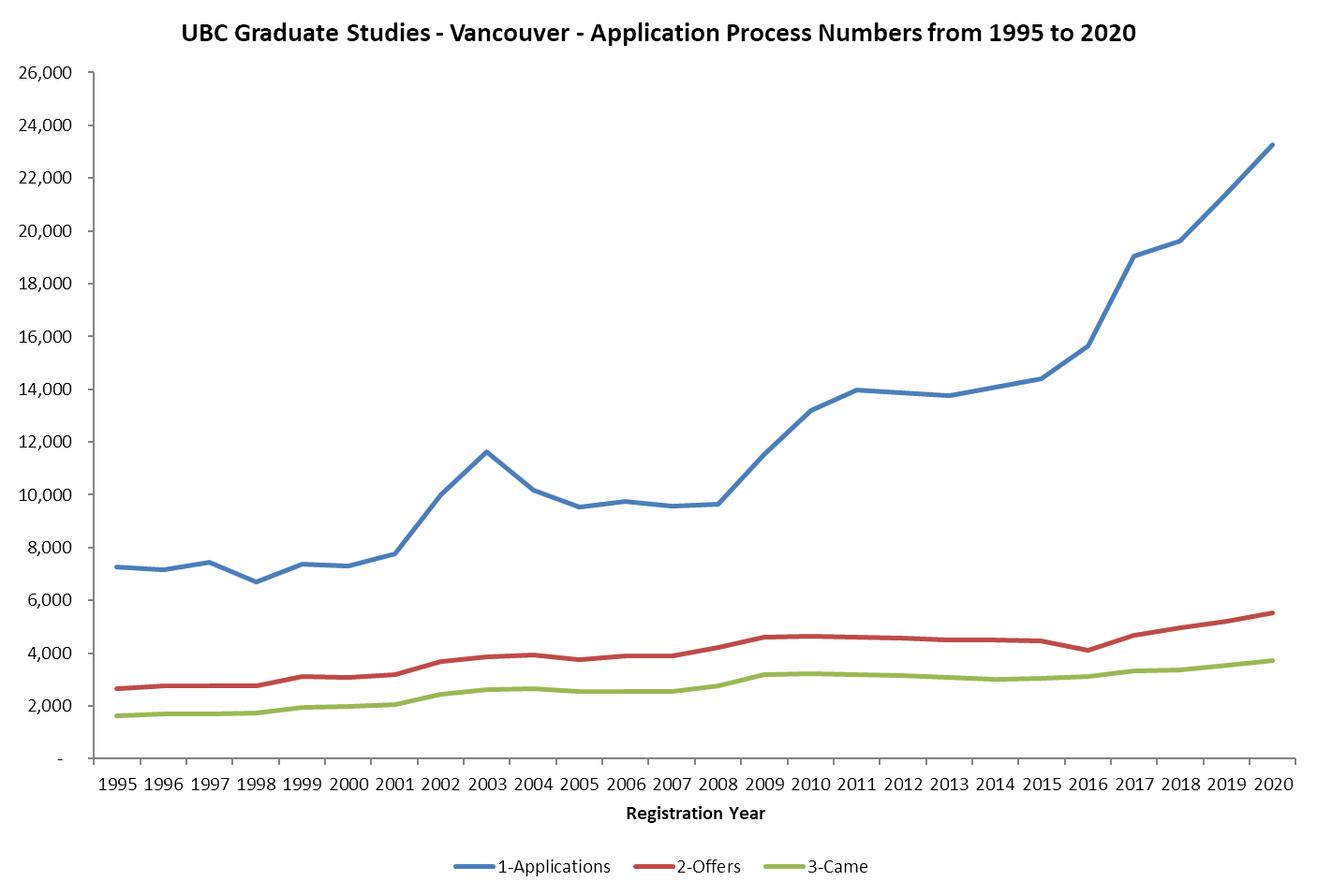 International growth has seen three periods of significant growth - from 2002 to 2003, 2009 to 2011, and from 2016 onwards.  International applications have exceeded domestic applications for the last ten years: 
2011 - 52.5%
2012 - 53.5%
2013 - 54.0%
2014 - 54.9%
2015 - 55.0%
2016 - 57.7%
2017 - 65.5%
2018 - 67.6%
2019 - 71.7%
2020 - 70.55%